Apple has released iOS 15.4 and iPadOS 15.4 on March 14. iOS 15.4 is the fourth major update to its mobile operating system, and it includes a number of new features and improvements. That means current iPhones can now get iOS 15.4, which also comes pre-installed on the new iPhone SE (2022), which was launched during Apple's March Event.
If you're wondering what's new in iOS 15.4, read on for a full rundown of all the features and changes.
Face ID With a Mask On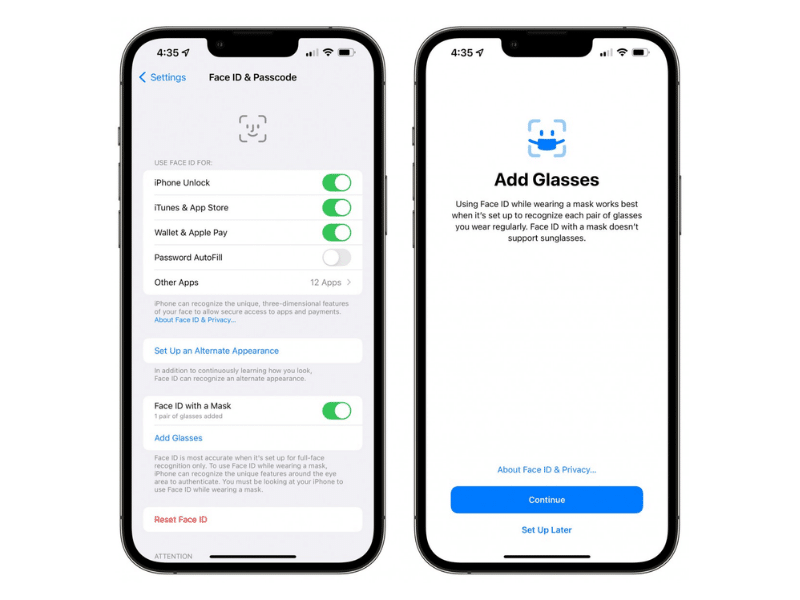 One of the headline features in iOS 15.4 is the ability to use Face ID while wearing a mask. Due to the Pandemic, many of us have been wearing masks in public, which has made Face ID unusable.
With iOS 15.4, Apple has added a new setting that allows you to use your Face ID while wearing a mask. To enable this feature, go to Settings -> Face ID & Passcode and toggle on the "Use Face ID with a Mask." Once this is enabled, Face ID will use the area around your eyes for authentication purposes. This will let you unlock your phone, authenticate Apple Pay transactions, and access password-protected apps while wearing a mask. It works with glasses but not sunglasses, and you must be staring at the iPhone while wearing a mask to unlock it. However, it is important to note that this only works with the iPhone 12 and above.
37 New Emoji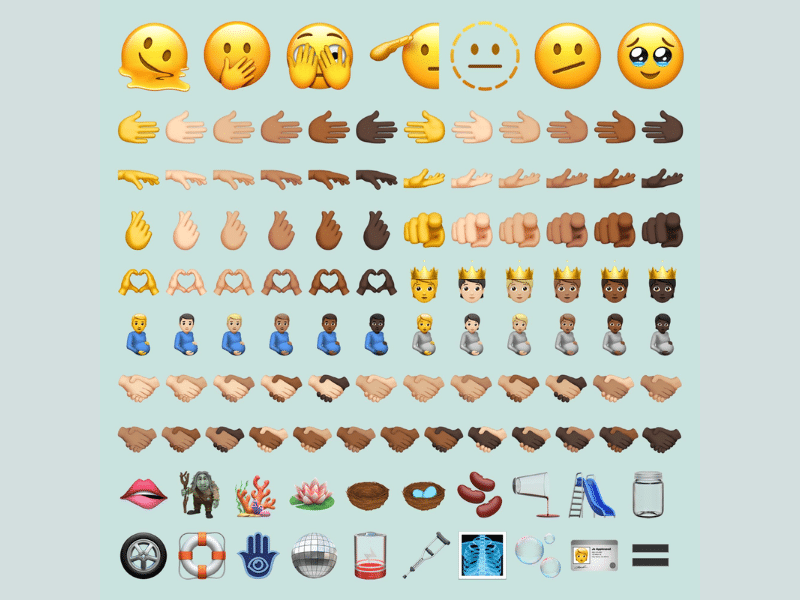 iOS 15.4 also includes 37 new emojis along with 75 skin tone variations in Emoji 14 for better diversity. New faces include melting face, saluting face, face with the peeking eye, dotted line face, and more. There are also new hand gestures emojis, such as heart hands, palm down hand, palm up hand, rightwards hand, leftwards hand, and more.
Anti-Stalking Measures for AirTag
Following multiple privacy concerns, as some people have been using the accessory to stalk and track others without their permission, Apple has promised numerous AirTag updates for this year. The first of which will be available in iOS 15.4. With this update, you'll be able to see a new pop-up when setting up an AirTag to warn you that tracking someone without their consent is illegal.  A message will also appear stating that stalking victims may cause law enforcement officials to request information on the AirTag owner.
Read More: Mobile Malware Threats and How to Protect your Device
New Siri Voice
iOS 15.4 update will also bring a new Siri voice to your iPhone. This is the fifth option for American users, and it sounds more gender-neutral. Apple says the new voice was recorded by a member of the LGBTQ+ community and hopes users can choose a voice that speaks to them. To change to the new voice, go to Settings -> Siri & Search -> Siri Voice.
Tap to Pay
Another iOS 15.4 updates will make it easier to pay using just your iPhone. With the new tap to pay feature, you'll be able to turn your iPhone into a contactless payments terminal. This is a way for small business operators to accept mobile payments without the need for any cards or extra hardware other than an iPhone. This feature requires support from third-party providers, and it is not yet available for use.
Vaccination Records in the EU
iOS 15.4 will also add support for adding vaccination records in the EU Digital COVID Certificate format to the Health and Wallet app. With this update, you'll be able to store your vaccination records in the Apple Wallet app and show them when needed. This is a useful feature for people who need to travel or prove their vaccination status for work or school.
iCloud Keychain Notes
Users of Apple's iCloud Keychain can now add their own notes to every password entry. It aligns iCloud Keychain with other password managers that offer similar functionality like 1Password. Notes are an important feature to password managers because it allows you to keep crucial account information alongside usernames and passwords.
Other iOS 15.4 Features
Beyond the features listed above, iOS 15.4 includes numerous smaller improvements. These include:
A new Emergency SOS setting to use Call with Hold for all users
Adding a login name when saving passwords for websites in Safari
the use of the camera to add scanned text to Note and Reminders
manage iCloud custom email domains from Settings
new podcast filters
A magnifier app that uses the iPhone 13 Pro and iPhone 13 Pro Max's ultra-wide camera to help you see small objects
Bug Fixes
iOS 15.4 fixes a number of bugs that were present in previous versions of the operating system. The following issues have been addressed with this update:
keyboard inserting a period between typed numbers
third-party apps were not displaying all animations at the full 120Hz ProMotion refresh rate
news widgets in Today View not opening articles when tapped
photos and videos not syncing to iCloud Photo Library
Speak Screen Accessibility feature quitting unexpectedly within the Books app
Live Listen not turning off when switched off in Control Center
iPAdOS 15.4
One of the major updates but specific to the iPad is Universal Control. With this new feature, you can use your Mac's keyboard and mouse to control your iPads and Macs that are signed in to your iCloud account. This is especially useful for people who want to use their iPad as a second display. It can be found in the AirPlay & Handoff tab in the General Settings. 
More from Apple