Just a month after it released the Galaxy S21 FE on CES 2022, Samsung is already unveiling the Galaxy S22 series. On its Unpacked Event last February 9, the tech giant announced a bunch of new devices which includes the Samsung Galaxy S22 Ultra, S22 Plus, S22, and Galaxy Tab S8 series.
The Galaxy family has grown a lot since it started with Galaxy S in June 2010. Now, a trio of new smartphones will be released very soon, but we will talk more about the Galaxy S22 Ultra.
The S22 Ultra is seriously amazing and has everything you could possibly want. It's got a huge screen, an awesome camera, and plenty of storage space. Plus, it's really fast and easy to use. If you're looking for a top-of-the-line smartphone, the Galaxy S22 Ultra is definitely the way to go!
Read more: SAMSUNG GALAXY Z FOLD3 5G: Buyer's Guide
Here's everything you need to know about the all-new Samsung Galaxy S22 Ultra:
Samsung Galaxy S22 Ultra: Release Date and Price
The Galaxy S22 Ultra is available for pre-order now and is set to be released in the United States on February 25, March 3 in Australia, and March 11 in the UK.
Galaxy phones are well-known for their high price tag, and this device isn't any different. The Galaxy S22 Ultra has a starting price of $1,199 for 128GB. If you want to go all out, you can get the Galaxy S22 Ultra 1TB for $1,599. In comparison, the Galaxy S22 has a starting price of $799 and the Galaxy S22 Plus has a starting price of $999.
The S22 Ultra has four available color options: Burgundy, Phantom Black, Phantom White, and Green. Samsung also offers some online-exclusive color options. These aren't available on-demand and in every area. To receive these colors, you'll most likely have to place an order a few weeks ahead of time. Its exclusive colors are Graphite, Skyblue, and Red.
Samsung Galaxy S22 Ultra: Design and Display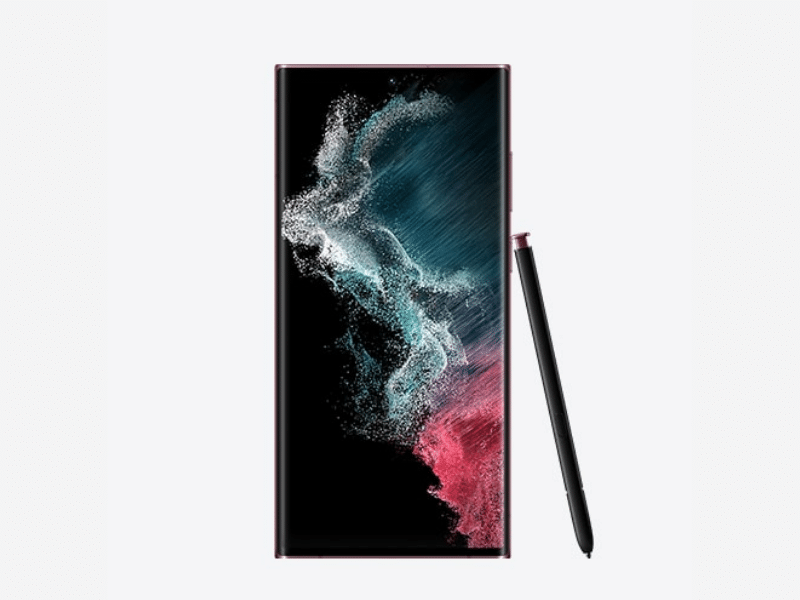 This new flagship device is sleek and beautiful. It has the largest display among the S22 series. Its 6.8-inch display with a properly curved edge panel adds to its beauty. With an armored metal frame, IP68 dust-and-water resistance, and a Gorilla Glass Victus+ back, the Galaxy S22 Ultra feels robust and durable. According to Samsung, its new casework makes it 12 percent stronger than its predecessor. Unsurprisingly, this smartphone does not have a 3.5mm headphone jack, which Samsung removed way back in the Galaxy S20 series of handsets. It only weighs 229g, the same weight as the Galaxy S21 Ultra. It has 1750nits peak brightness making it the brightest Galaxy smartphone to date.
As if that wasn't enough, the display also has a new Vision Booster feature. This means that this phone will automatically enhance your screen, no matter the lighting conditions. You will never have a problem using your phone even in very strong sunlight. Additionally, like most flagship phones, you will get a dynamic 120Hz refresh rate, fingerprint scanner, and face recognition.
S Pen Stylus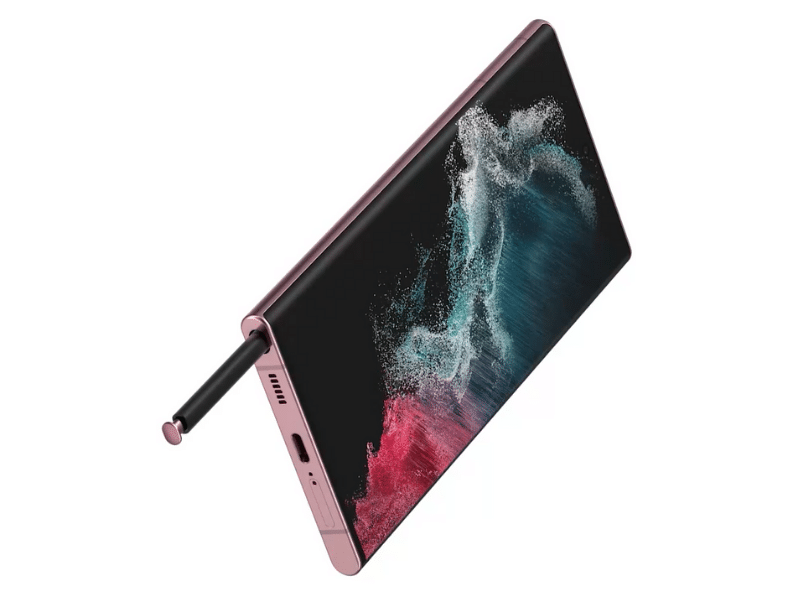 Another addition to Galaxy S22 Ultra is the integration of an S Pen stylus. It has now taken the place of the popular Galaxy Note series as it comes with a built-in S Pen. Like the previous Samsung Note, this stylus lives on the bottom right of the phone and readily pops out with a simple press. This S Pen is more responsive, as Samsung improved its latency by 70% over the S21 Ultra. It supports Bluetooth Air Actions and has an IP68 rating. People who love taking notes and doodling on their smartphones will find this stylus very useful.
Samsung Galaxy S22 Ultra: Cameras
The S22 Ultra cameras never disappoint. Samsung is aiming to surpass the iPhone 13 Pro Max and Google Pixel 6 Pro as the best camera phone. The Galaxy S22 Ultra has a four-camera setup on the rear, with an impressive 108-megapixel as the primary shooter. There are also a 12MP ultra-wide camera and dual 10MP telephoto cameras that combine to offer 10x optical zoom and 100x space zoom. The Galaxy S22 Ultra boasts a larger pixel sensor for low-light photos and a new 'Super Clear Glass Lens' designed to reduce flare.
The phone's potential to take better images and videos in the dark is also highlighted by Samsung. The Galaxy S22 series use a process called pixel binning. It combines 9 pixels into one for better images in the dark. It boasts a larger pixel sensor for low-light photos.
This smartphone also has Stereo Depth Map to improve portrait shots. When you click an image of a person, this ensures that every single aspect is kept in focus while the background is blurred. You can also find optical stabilization, an auto framing feature, and a night mode for more professional-looking selfies.
Samsung Galaxy S22 Ultra: Battery Life
The Galaxy S22 Ultra has an impressive 5000mAh battery life which is almost double compared to the standard S22 model. With this, you can rely on this phone for the whole day on a single charge. It takes only 40 minutes to fully charge, thanks to its 45W super-fast charging technology. Unfortunately, you have to buy this charger as Samsung does not include a charger in the box.
Samsung Galaxy S22 Ultra: Performance
Despite being thin, the Galaxy S22 Ultra's screen packs a whole lot of technology under the hood. The Samsung Galaxy S22 Ultra is one of the first phones powered by Qualcomm's Snapdragon 8 Gen 1 processor. It allows this phone to have better CPU and graphics performance. This chip will be available in the USA. On the other hand, Samsung will offer its own 4nm Exynos 2200 chip in other regions.
Samsung's OneUI 4.1 software, which runs on top of Android 12, powers the Galaxy S22 Ultra. This interface is said to provide a better user experience than previous versions. Samsung's Galaxy S22 Ultra was also announced with support for Google Duo live sharing. It allows users to share notes, galleries, watch videos together, and more. Samsung Galaxy fans will also be glad to know that the Galaxy S22 Ultra features Wi-Fi 6E connectivity. Unfortunately, the Galaxy S22 Ultra has only up to 12GB of RAM. Although it sounds lower than the Galaxy S21 Ultra, this will be enough to run heavy apps smoothly.