The Consumer Electronics Show (CES) is an annual trade event organized by the Consumer Technology Association. It is one of the most important trade shows for new electronic devices and it is where business relations are established. CES is a great opportunity for companies big and small to unveil "the next big thing", as well as a way to test the market's response to innovative technologies.
CES usually takes place in early January at the CES Convention Center in Las Vegas. This year's CES was held on January 5-7 of 2022 and several new gadgets have been unveiled during the exhibition. Whether you're looking for new smart TVs, new vehicles, digital health techs, or new smart home devices, CES 2022 has got what you're looking for.
This list includes some of the most exciting, practical, and weird products that were unveiled at CES 2022, but it is by no means a full list.
Let's have a look at some of CES 2022's coolest products.
Asus Zenbook 17 Fold
More companies appear to be experimenting with foldable screen gadgets each year. With that saying, Asus just unveiled the Zenbook 17 Fold this CES 2022. The Asus Zenbook 17 Fold is a folding laptop-tablet hybrid with a full 17-inch display. This Asus Zenbook has hinges that allow the user to fold it down flat, turning its 17-inch display into a tablet. The Zenbook is equipped with Intel Core i7 U-Series, as well as up to 16GB of RAM and 1TB of storage. ScreenXpert 2 software is also included with this Zenbook, which allows you to divide the screen and organize its contents more conveniently. You may use a virtual keyboard or pair it with a Bluetooth keyboard.
Samsung Odyssey Ark Monitor
Samsung unveiled a slew of new monitors at CES 2022. This includes the Samsung Odyssey Ark monitor. It has a stunningly beautiful 55-inch OLED display with a 4K resolution. What makes this monitor cool is its built-in stand with adjustments for height and allows the display to be rotated and viewed either horizontally or vertically. Its massive screen can also be managed via a fantastic dedicated hardware control dial for content views. Rather than relying on complicated software or hardware controls on the monitor, you may split video feeds and move content exactly where you want it using this simple dial and buttons. You can do this without having to leave your game or other apps. Samsung Odyssey ARK has everything you need to play your favorite PC games in a great new way.
Samsung  QD-OLED TV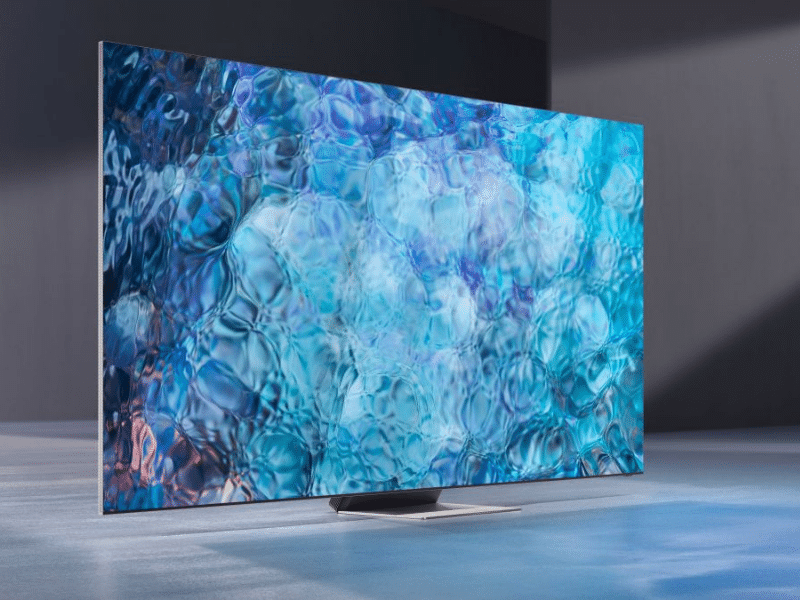 A lot of smart TVs also made it to the CES 2022. And CES 2022 cannot be completed without Samsung. Samsung is most known for its QLED TVs, but it's finally introducing QD-OLED at CES 2022. Unlike the standard OLED, QD-OLED only uses blue organic light-emitting diodes. This allows the panel to produce the whole spectrum of color visible to the human eye by shining the light they produce through a series of quantum dots. Four HDMI 2.1 inputs, a 144Hz refresh rate, a Neo Quantum Processor, and immersive sound are among the other features highlighted.
LG OLED Media Chair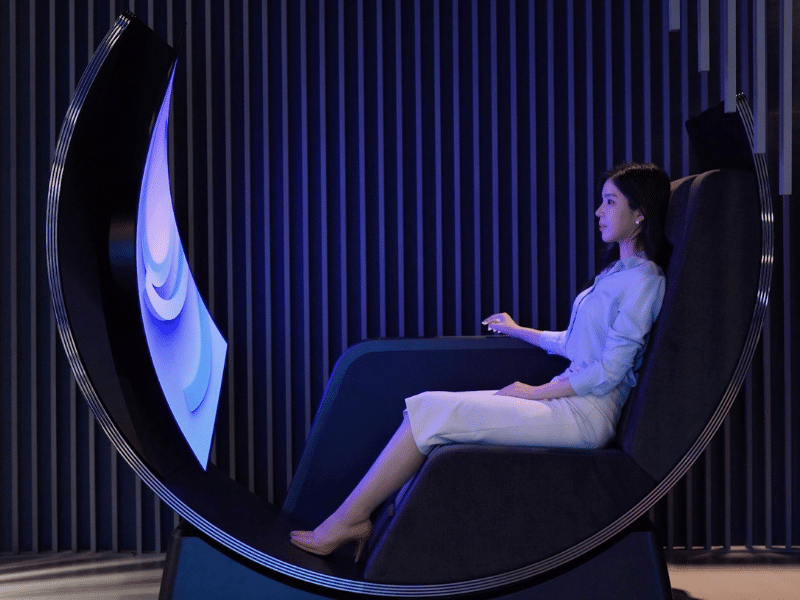 LG has become known for its distinctive approach to television and display technologies over the previous decade, having been selected as a CES Innovation Award honoree for eight years in a row. For the CES 2022, LG drops an OLED Media Chair. This concept has a 55-Inch rollable and bendable OLED TV display in a reclining chair. It just wouldn't be CES without crazy concepts that push the envelope. It also includes the company's Cinematic Sound OLED (CSO), which allows the display to vibrate and produce its own sound without the need for external speakers.
Mercedes-Benz Vision EQXX
CES continues to be the place where auto companies debut their "vision of mobility", and for CES 2022, Mercedes-Benz debuts its Vision EQXX. The brand is claiming it'll be able to go more than 620 miles. It will also have a range of more than 1,000 kilometers on a single battery charge, which equates to the consumption of less than 10 kWh of energy per 100 kilometers. That's enough to get the Vision EQXX from Berlin to Paris, on a single charge. 
Samsung 2022 Eco Remote
Samsung not only made us proud with its new TVs and monitors but also with its Eco Remote. The company has developed a remote that never, ever, requires new batteries. The revamped accessory charges from both solar energy and the radio waves blasted out of your Wi-Fi router. This helps to reduce landfill waste considering how many batteries low-powered devices use globally. We see there's a big focus on sustainable development in CES 2022.
Roborock S7 MaxV Ultra Robot Cleaner
Robot vacuums are one of the most useful smart home devices we all need for a clean home. CES 2022 has brought an upgrade to the classic robot vacuum cleaner. The Roborock S7 MaxV Ultra Robot Cleaner is designed to clean with absolute ease and efficiency. This robot vacuum has improved mopping detection and has the next-gen Reactive AI. It also has the most suction power of any other Roborock vac with 5,100 Pa. This is surely something that homeowners have been waiting for. This is surely going to be one of the best Robot Vacuum cleaners this 2022.
Eufy Security Video Doorbell Dual
Video doorbells have been a great invention to help us feel safer in our homes. It usually detects motion and sends a notification to you which lets you see and speak to whoever's outside your door. CES 2022 has brought forth yet another smart video doorbell with the Eufy Security Video Doorbell Dual. This smart doorbell not only sees people at your front door but also sees a package being dropped off. Its secondary downward-facing camera allows it to see what is happening at the doorstep. To reduce false positives and ensure you never miss a visit, Eufy has upgraded its detecting capabilities using radar and PIR (passive infrared) motion sensors.
BMW iX M60
The iX is BMW's electric future. BMW has been at the forefront of electric vehicle design for a while now. At the CES 2022, BMW unveiled their newest electric car, the iX M60. BMW has made a color-changing car that impressed CES attendees. It has body panels made from E Ink technology. The driver may cycle through any shade between brilliant white and deep black. According to BMW, the color changes can help reduce the amount of cooling and heating required by the vehicle's air conditioning, hence minimizing battery drain.
Related Article