On Wednesday during its Galaxy Unpacked 2022 event, the tech giant company unveiled its new Galaxy S22 phone line, which is the successor to its S21 line. Samsung really made a lot of improvements on their new phone, but they also launched its new Galaxy Tab S8 line, featuring the Tab S8 Ultra, a huge device that targets a niche market of a tablet with a stylus.
The South Korean company's new Galaxy Tab S8 Ultra is going to compete against Apple's iPad Pro line of tablets, but can they make an impact? In this article, we're going to show you everything you need to know about the new Samsung Galaxy Tab S8 Ultra.
Read more: The All-New Powerful iPad Mini 6
Samsung Galaxy Tab S8 Ultra: Release Date and Price
The Samsung Galaxy Tab S8 is available for preorder via Samsung's website and will officially launch on February 25 in the United States, Europe, and Korea. It has a starting price of $1,099, the same price as the iPad Pro 12.9-inch. It is the most expensive Samsung tablet to date. Those who pre-order can trade in for up to $600 with a free Backlit Book Cover Keyboard. For comparison, the Galaxy Tab S8 has a starting price of $699 while the Galaxy S8 plus has a starting price of $899. If you want to go all out, you can get the Galaxy Tab S8 Ultra 512GB for $1,400. 
Unfortunately, Samsung only has the Tab S8 Ultra in one color only – graphite. If you're looking to have more color options, you'll have to buy the other two models (S8 or S8 plus) which offer graphite, silver, and pink gold.
Samsung Galaxy Tab S8 Ultra: Design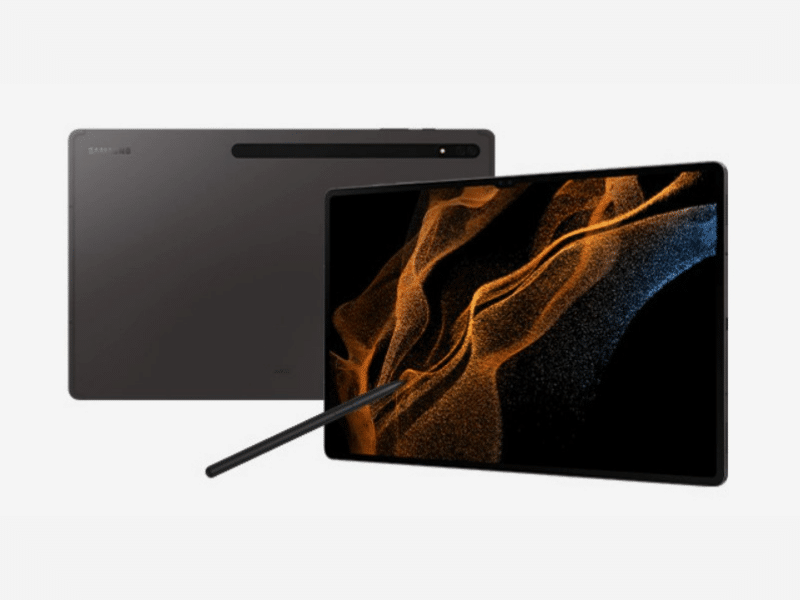 The new Samsung Galaxy Tab S8 Ultra is absolutely huge it could potentially replace your laptop. It is housed in a graphite aluminum chassis that is 30% more scratch-resistant and 40% less prone to bending than the S7. It measures 12.85 x 8.21 x 0.22 inches. At 1.6 pounds, this tablet is both lighter and thinner than the 12.9-inch iPad Pro. Because of its massive design, you may have trouble fitting it into your bag or carrying it in one hand. It has a tiny bezel around the screen that makes it easier to get immersed in content than other tablets. The notch is likewise subtle and does not attract too much attention.
If you're a graphic artist or a designer, you'll be happy to know that the Galaxy Tab S8 is compatible with an S Pen stylus. It securely houses the S Pen that attaches to the back of the slate magnetically. It will surely be your perfect partner for your business trips.
Samsung Galaxy Tab S8 Ultra: Display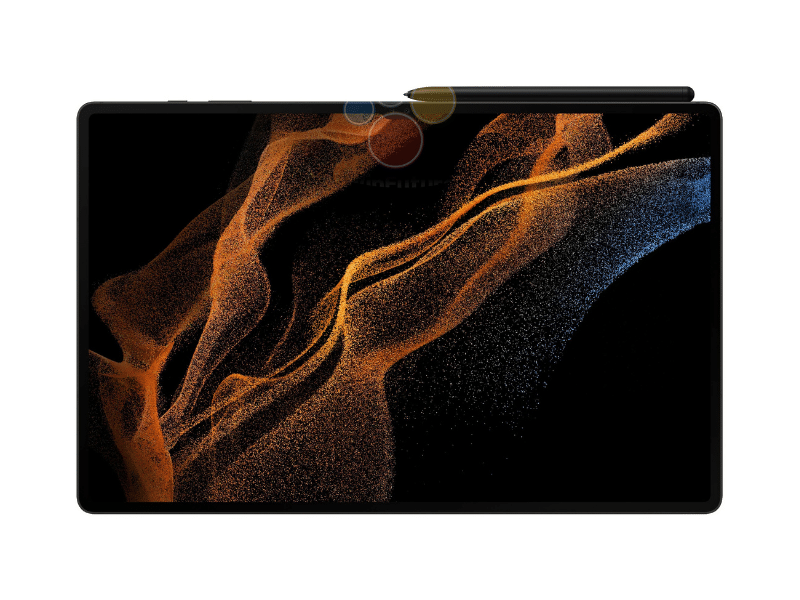 The Samsung Galaxy Tab S8 Ultra has a large 14.6-inch Super AMOLED display that allows for deep blacks and extra-bold colors. It can reproduce rich colors and sharp details with its 2560 x 1600 resolution at a pixel density of 240 PPI. Like most flagship tablets, the screen can refresh at 120Hz for that extra smooth scrolling. With its low-latency S Pen, you can use your stylus easily with no lags. Because of its wide-screen, you can do split-screening two apps pretty easily.
The Galaxy Tab S8 Ultra can also be used as a second monitor for Galaxy PCs with touchscreen capabilities. Multitasking becomes so much easier with this feature. When you want to share the tablet's screen on an external display, the enhanced Samsung DeX enables transparent app windows and DeX mirroring.
Samsung Galaxy Tab S8 Ultra: Hardware and Specs
Under the hood, Samsung's newest tablet packs an octa-core Qualcomm Snapdragon 8 Gen 1 processor. This allows the android tablet to manage different apps simultaneously without lagging or freezing. It runs Android 12.0 and includes Wi-Fi 6E and 5G support. You can have a standard 8GB of RAM with 128GB of internal storage or get the more premium configurations like the 16GB of RAM with 512GB. It can be expanded via its microSD card slot for up to 1000GB. Accelerometer, ambient light sensor, gyroscope, proximity sensor, and compass/magnetometer are among the tablet's sensors.
This huge tablet also comes with good battery life with 5000mAh. Samsung says it will last up to 15 hours. You can charge a full battery in just 90 minutes with 45W super-fast charging. It can also be used as a power bank for compatible Galaxy devices.
Samsung Galaxy Tab S8 Ultra: Camera
When it comes to cameras, the Samsung Galaxy Tab S8 has dual 12-megapixel front cameras. With this, you can record in 4k resolution, or you can take better selfie shots with your tablet. It also automatically adjusts to keep you in the frame and automatically zooms in and out if someone joins you. On the back, it has a 13-megapixel primary camera and a 6-megapixel camera. Paired with these cameras are three directional mics, Dolby Atmos-powered quad speakers, and noise cancellation, making this a perfect device for video conferences.
Read more: Best Tablets of 2021