The Garmin Fenix 7 is the latest addition to Garmin's popular Fenix line of watches. It makes a worthwhile upgrade from Fenix 6. It sits between the smaller Fenix 7S and the supersized Fenix 7X. The latest series also packs a lot of new features, better GPS, and longer battery life. If you are looking for a great outdoor or fitness watch, the Garmin Fenix 7 is a great option.
Read more: Top Smartwatches To Buy
Let's take a closer look at what this watch has to offer.
Garmin Fenix 7: Release Date and Price
Last January 18, 2022, Garmin launched a series of watches including the Garmin Fenix 7. The Fenix 7 series are available in three different sizes: Fenix 7S (small), Fenix 7 (large), and Fenix 7X (extra large). Solar charging is possible on all three models, but the size you select will be one of the most important considerations in determining how much you pay. The Fenix 7 has a starting price of $699.99 for the standard model and goes up to $999 for the top-tier model. You can buy this directly from Garmin or Amazon.
Here's a quick breakdown of the Fenix 7 series prices: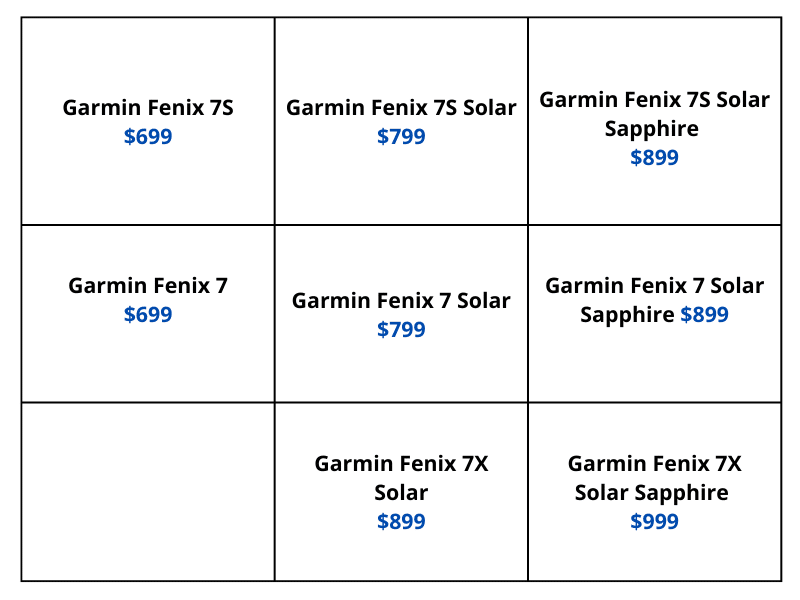 Read more: Apple Watch Series 6: All You Need to Know
Garmin Fenix 7: Design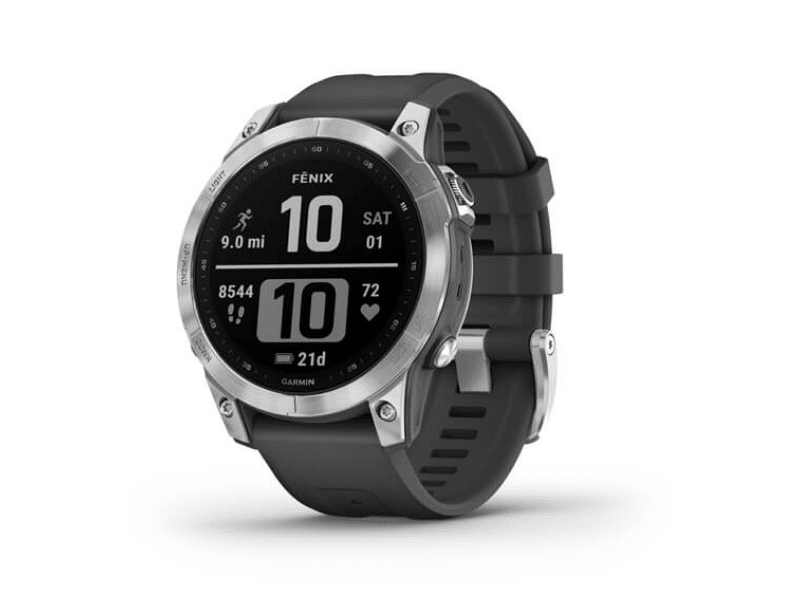 The Garmin Fenix 7 has almost the same design as its predecessor, Garmin Fenix 6. It has a round watch face with five buttons on the side. The touchscreen automatically locks during activity tracking to prevent accidental pausing or cancellation of activities. You can choose to turn off the touchscreen entirely if you prefer to use only the buttons.
The Fenix 7 comes in 47mm case size with standard, Solar, and Sapphire Solar variants. In comparison, the 7S models have a 42mm case size while the 7X models have a massive 51mm face.
It still feels a little bit bulky with the base and solar model weighing 79g but you'll get used to it if you're upgrading from a Fenix 6. Each model is available in different colors such as carbon gray, mineral blue, black, and more. You will be pleased to know that the latest Garmin Fenix 7 uses the same watch straps as the preview Garmin Fenix 6 Series.
The base model features a Gorilla Glass lens, the Solar model has a Power Glass and the Sapphire Solar model has a Power Sapphire lens. The Sapphire Solar edition is the first watch to combine the benefits of solar-charging screen tech with a tough crystal. This gives you the best of both worlds.
 Garmin Fenix 7: Display
Garmin Fenix 7 comes equipped with a transflective color LCD screen rather than an AMOLED screen. This helps to improve battery life and visibility in direct sunlight. However, this also means that it will not be as bright as we want it to be, especially during low-light conditions. The screen though has a backlight that you can turn on when needed.
The Fenix 7 has a 1.3-inch screen and features a display resolution of 260 x 260 pixels. The watch face can be customized to show time zones, weather conditions, step count, and more data fields. All models carry the same 10 ATM water rating, making them a great smartwatch for many water activities.
Garmin Fenix 7: Features
One of the biggest changes for the newest Garmin watch is its responsive new touchscreen interface. You can now swipe through and tap options like what most of the best smartwatches offer. Garmin boasts a lot of sensors including the company's latest Elevate 4 optical heart rate monitor, altimeter, compass, SpO2 sensor, and temperature sensor. Its GPS and navigation have also been upgraded. The L5 frequency range is supported by all Fenix 7 series devices for increased accuracy in places where GPS communication is typically difficult.
All of the watches in this series come with detailed Garmin TopoActive Maps. Standard and Solar models allow for downloadable TopoActive maps from any region around the world. On the other hand, Sapphire Solar models are preloaded with TopoActive maps for your region. These maps can be used for hiking, running, cycling, and other outdoor activities. However, getting around them isn't as easy as it is with the Apple Watch 6.
In addition to that, Fenix 7 has also given a big focus on stats like VO2 Max and your training status. It has a visual race predictor that adds graphs to the existing race predictor numbers, which are fueled by VO2 Max data and past exercise data, to help you understand why times are lowering. There's also a new Real-Time Stamina tool that allows athletes to monitor and track their exertion levels during their run or bike activity. The new Up Ahead feature is also impressive. With this feature, your watch will notify you of upcoming aid stations, next turn during a race, trails, and more.
If you're looking for more smart features, Garmin Fenix 7 also offers Garmin Pay. This will let you make contactless payments in-store with your wrist. Garmin Pay works with many major credit and debit cards, including Visa and Mastercard. Unfortunately, it doesn't offer voice assistance just yet.
Garmin Fenix 7: Battery Life
One of the Garmin Fenix 7's main selling points is its long battery life. The battery life of this latest smartwatch has received a big boost with no added weight. Garmin Fenix 7 models can last up to 18 days in smartwatch mode and up to 57 hours in GPS mode. This is thanks to the transflective color LCD screen and other battery-saving features. If you choose the solar models, you will get extra days of battery life on top of that.
Garmin Fenix 7 has a charging port on the back and uses the same proprietary USB cable as all other Garmin watches released during the last couple of years. It takes more than 2.5 hours to fully charge the Fenix 7 via USB, hitting 50% in an hour.