Amazon held its annual event last September with the launch of many products, which include Amazon Astro, Amazon Glow, and the all-new Echo Show 15.
Today, it's safe to say that Amazon is getting closer and closer to creating a full-fledged smart home with its own operating system and if you'll excuse the (slightly) bold statement, a new world order.
The Echo Show 15 is the latest flagship device that Amazon has designed to help do just that.
Here's everything you need to know about the Amazon Echo Show 15, including its release date, price, design, and features.
Amazon Echo Show 15: Price and Availability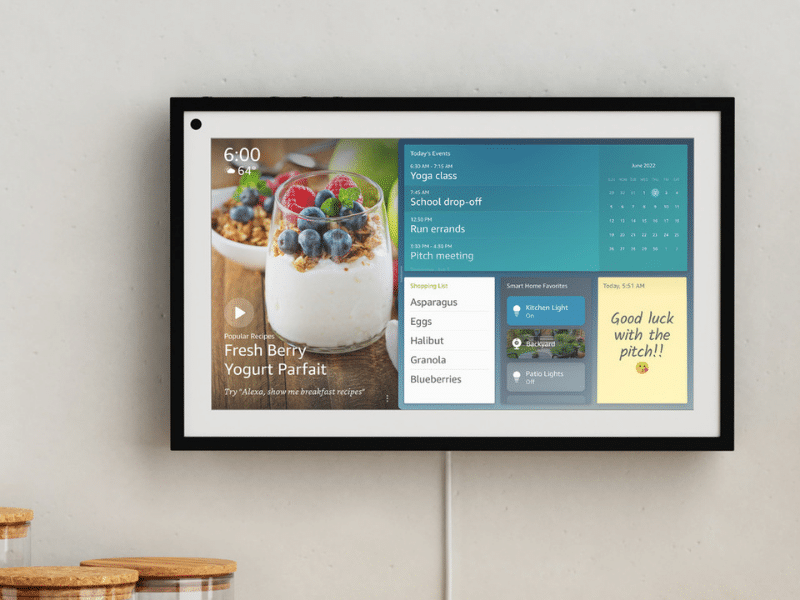 The Echo Show 15 is not yet available but it will be, later this year, probably November or December. Pre-order dates haven't been announced by Amazon yet, either.
The new flagship device will have a retail price of $249.99 in the US and £239.99 in the UK. This may be a good holiday gift idea for the Holiday Season.
Countertop stands and under-cabinet mount accessories will be sold separately, but the prices have not been disclosed as of this writing.
Amazon Echo Show 15: Design
The first thing that you're going to notice about this smart display is its design. Amazon Echo Show 15 is the biggest smart display of Amazon to date. It has a 15.6 inch Full HD screen perfect for video streaming. It can be your kitchen TV or have it as a picture frame using Amazon photos. You can also have it on a stand or wall-mounted in either landscape or portrait orientation.
It has a white bezel with a black frame surrounding the display. The display is touch-sensitive so you can have the ability to interact with Alexa using touch instead of voice command.
Amazon Echo Show 15: Camera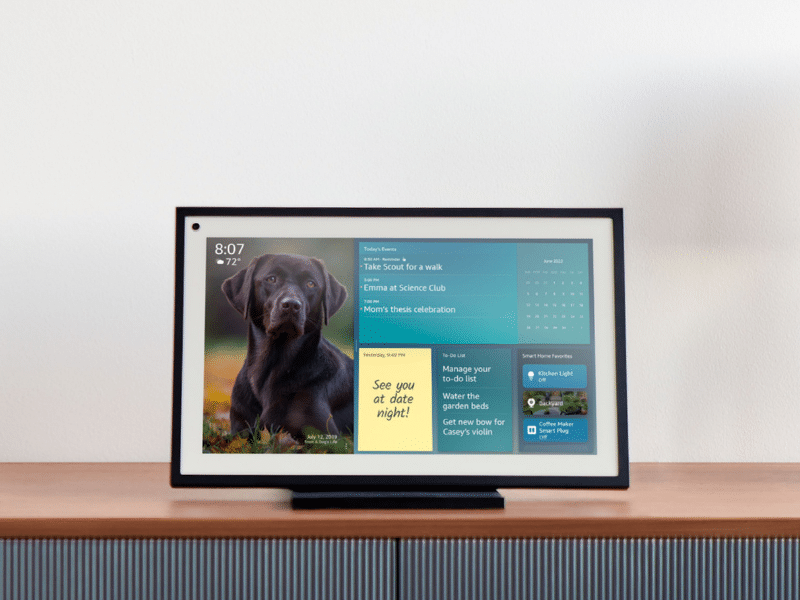 You can see a small 5mp camera at the top of the smart display. The camera can be used for video calls so you can chat with your family and friends. Unlike the Echo Show 10, the camera does not support motion-tracking so it cannot follow you around while moving.
The Echo Show 15 has a new Visual ID feature. Powered by the newest AZ2 processor, the Echo Show 15 uses facial recognition to identify members of your family and personalize on-screen information accordingly.
If you're worried about your privacy, don't worry because this device is designed with privacy in mind, according to Amazon. The visual ID profile is optional and you can delete it anytime through the device settings or the Alexa app. The camera also has a built-in shutter to cover the camera.
Amazon Echo Show 15: Display Features
Users will be able to customize the display to their preferences. With its new widgets, you can show large-sized Amazon Prime photos, view and update your calendar with upcoming events, check your to-do list, add or remove items from your shopping list, custom greetings on sticky notes, and more.
It can be a great way to keep you and your family's daily routine on track.
Amazon Echo Show 15: Smart Home Features
Just like other smart displays from Amazon, this device is designed to make your home smart. You can use it to turn on or off appliances using compatible smart plugs and switches, set lights, and more.
The Echo Show 15 also works with Alexa Guard. With this, the device can act as your security camera to keep your home safe. It can hear glass breaking and smoke alarms so you can be alerted if there are unusual happenings in your home.
In the coming months, users will be able to teach the Echo Show 15 and other Echo devices to recognize sounds to enable new Alexa routines. For example, if it hears the microwave ding, it will send a notification to you so you'll know if you're ready to go.
Amazon Echo Show 15: Entertainment
With its large screen, you can enjoy videos from Amazon Prime Video, Hulu, Netflix, and let your kids watch their favorite shows from Disney. Soon, they will be adding Sling TV and Tiktok too.
You can also listen to Amazon Music, Spotify, and audiobooks from Audible.
The Echo Show 15 will come with two 1.6-inch side-firing speakers that should give adequate sound, but don't expect it to be as good as the Echo Studio or other smart speakers alike.
Together with the Amazon Echo Show 15, Amazon has also announced a smart home robot called Astro.
Learn more about it here – Amazon Astro