Enter Xbox Game Pass, the hero of multiplayer gaming enthusiasts. Microsoft's subscription service offers an extensive collection of exceptional multiplayer games. Not only does it encompass every first-party masterpiece from the publisher and its subsidiaries, but it also boasts an extensive library of titles from renowned studios worldwide. What this means for gamers is that they can immerse themselves in the finest multiplayer experiences without reaching for their wallets – as long as they're subscribed to Xbox Game Pass.
Whether you're seeking cooperative couch gaming or the thrill of pitting dozens of players against each other, Xbox Game Pass has a diverse selection of multiplayer games that caters to gamers of all stripes.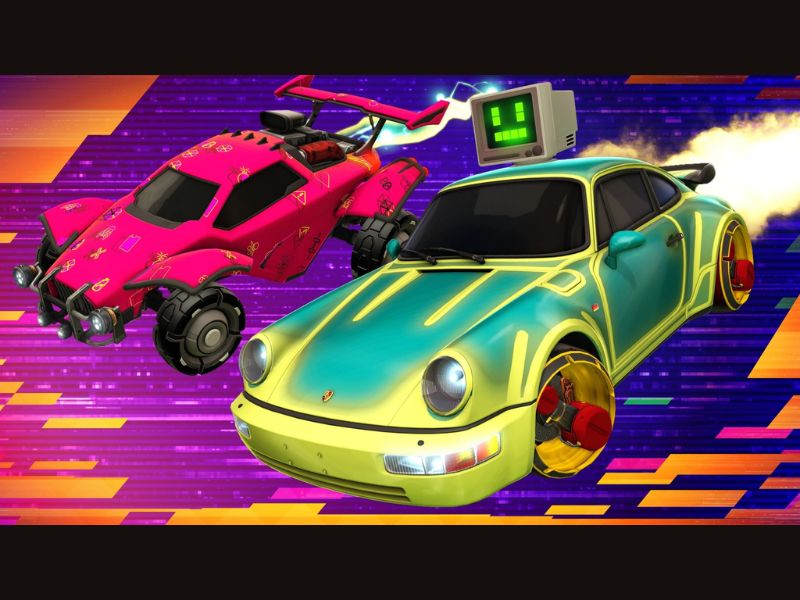 Rocket League
Rocket League, the high-octane multiplayer game on Xbox Game Pass that combines soccer with rocket-powered cars, is back with an exciting update for 2023. In this latest season, you'll experience a fusion of thrilling gameplay and a cyberpunk aesthetic. Get ready to race against the machine, augment your ride, and seize the circuit as you dive into this electrifying world.
Features:
Race Against the Machine:
The iconic Porsche 911 Turbo has made its grand entrance into Rocket League, celebrating Porsche's 75th anniversary. This car brings style and speed to the game, instantly available with Rocket Pass Premium.
Tier up your Turbo for a wild, wide-bodied version, featuring super-sized fenders, an eye-catching lip splitter, and an LED car logo.
Both cars use the Dominus Hitbox, ensuring high-speed action.
Augment Your Ride:
Rocket Pass Premium offers fantastic upgrades for your car, including the Hacked Halo Topper, adding a holographic vibe without blocking your view.
Embrace vintage tech with the CRT Avatar Border.
New Paint Finishes like Bubblewrap, Keyboard, and Pixel give your ride a fresh look without sacrificing your favorite items.
Transform the Arena with Zero's World Goal Explosion, covering the entire space with dazzling effects.
Zero-Day Takeover:
Witness the rise of Zero-Day, a name once whispered in the darkest corners of the web.
A massive data flood has transformed the local Soccar spot into the Neo Tokyo (Hacked) Arena, with Zero-Day's masked face everywhere.
System Override:
Test your skills in the Arena and earn Tournament Rewards.
Unlock items like the Toasted Antenna, Doodled Octane Decal, Sabr-619 Wheels, and more.
You might even land one of this Season's Black Market items, like the Hypno-Web Decal and Twisted Tornado Goal Explosion.
Data Drifters:
Enhance your Garage with item packs like the Rookie Pack, featuring a Purple Tygris Car and Black Finny Wheels.
The Elite Pack offers color-coordinated gear, including the Fennec Car, Quimby Wheels, Blazer Trail, Neo Thermal Boost, and the animated Wet Paint Decal.
Digital Noise:
Uncover cryptic messages hinting at Neo Tokyo's tuner crews reopening the Aftermarket Item Shop Tab and exciting Halloween celebrations.
Take control of your reality as Season 12 kicks off on September 6. Rocket League is your ticket to thrilling multiplayer action in 2023.
Valheim
Valheim is an exciting adventure game on Xbox Game Pass where you step into the shoes of a Viking, setting sail to uncharted lands, battling fearsome creatures, and building grand halls. In this expansive world, you'll explore mysterious environments, craft your tools, and engage in epic boss battles. Let's break down its key features:
Features:
Explore the Tenth World:
Journey through a world filled with secrets, unique enemies, and valuable resources.
Embrace your inner Viking as you sail uncharted seas, ready to confront bloodthirsty monsters.
Build Mighty Halls:
Erect Viking longhouses and establish sturdy bases to protect against impending dangers.
Customize your buildings inside and out using a detailed building system.
Progress through building tiers to enhance and expand your stronghold.
Gather, Craft, and Survive:
Test your survival skills by collecting materials and crafting essential items like weapons, armor, and tools.
Decorate your living spaces, cultivate crops, prepare food, brew meads, and face more challenging bosses to unlock new recipes and blueprints.
Procedurally-Generated World:
Explore a massive world where each biome offers unique challenges, enemies, resources, and crafting recipes.
Multiplayer Exploration:
Team up with up to 10 players on player-hosted dedicated servers, with limitless world creation and escalating enemy difficulty.
Stamina-Based Combat:
Engage in combat that rewards preparation and skill, offering various weapon types, blocking styles, ranged attacks, dodges, and parries.
Rewarding Food System:
Enjoy a food system that boosts health, stamina, and regeneration without punishing you for not eating.
Intuitive Crafting:
Discover recipes as you explore and gather new resources, making crafting an intuitive and rewarding experience.
Flexible Building:
Use a versatile building system that considers structural integrity and ventilation, allowing you to create anything from small shelters to entire villages.
Sailing Adventures:
Set sail on boats and ships to explore distant lands, uncover treasures, and face sea monsters.
Sid Meir's Civilization 6
Sid Meier's Civilization VI is a captivating turn-based strategy game on Xbox Game Pass, developed by Firaxis Games and published by 2K, with various ports for different platforms. This game allows you to lead a civilization from its humble beginnings to global dominance, with diverse paths to victory. You can achieve success through military might, technological advancements, or cultural influence while competing with other human and computer-controlled leaders.
Features:
Civ Building and Evolution:
Your task is to guide your civilization from an early settlement through millennia to become a world power. You'll work towards different victory conditions, including military conquest, technological supremacy, and cultural prominence.
Multifaceted Gameplay:
Explore the world, establish new cities, improve existing ones, deploy military forces for defense and offense, conduct research, advance technologically and culturally, and engage in diplomacy with other leaders.
Diverse Civilizations:
Civilization VI introduces numerous civilizations, both new and returning ones with different leaders and capitals. This diversity enhances the gameplay experience.
District System:
Unlike previous versions, Civilization VI uses a district system where specific types of buildings must be constructed outside the city center. For instance, you'll need a campus district for science-related structures.
Technology and Culture Trees:
The game features a technology tree tied to nearby terrain and a separate cultural tree for advancements in culture and government civics. These provide flexibility and depth to your civilization's development.
AI Enhancements:
Computer-controlled opponents have more complex behaviors, secret goals, and unexpected interactions, making the gameplay dynamic and challenging.
Positive Reception:
Civilization VI received positive reviews, earning the Best Strategy Game award at The Game Awards 2016.
Expansions and Passes:
The game has received substantial content updates, including expansions like "Rise and Fall" and "Gathering Storm." A season pass called the "New Frontier Pass" introduced additional content. The "Leader Pass" extended the game with new content between November 2022 and March 2023.
Read More: The Best Meta Quest 2 Games for 2023
Back 4 Blood
Back 4 Blood is an intense cooperative first-person shooter brought to you by the creators of the acclaimed Left 4 Dead series. In this game, you face off against the Ridden, once-human hosts of a deadly parasite who have transformed into horrifying creatures determined to consume what's left of civilization. With the fate of humanity hanging in the balance, you and your friends must wage war, eliminate the Ridden, and reclaim the world.
Features:
Campaign + Co-op:
Team up with three friends online or take on the challenge solo, leading your squad in the battle against the Ridden.
Choose from 8 unique Cleaners, each with their own customization options, and select from a range of powerful weapons and items to strategize against the ever-evolving enemy.
PvP (Player vs. Player):
Engage in thrilling PvP battles where both sides have distinctive weapons, abilities, and specialties to keep the gameplay dynamic and enjoyable.
Switch between playing as a Cleaner, fighting off the Ridden and trying to survive, or as the Ridden, using unique abilities to eliminate your opponents quickly.
Enjoy the company of friends in the new 4v4 PvP mode for intense competition.
Extreme Replayability:
Experience ever-changing gameplay with a rogue-lite Card System. Jump right into action with a pre-made deck or craft your custom deck for a more personalized experience.
Every playthrough is unique, thanks to varying environments, hazards, enemy types, and placements. This diversity allows you to replay the game countless times, whether with friends or as a solo player.
The dynamic Game Director adjusts to player actions, ensuring exciting battles, diverse gameplay, and formidable Ridden foes, including massive mutated boss types reaching up to 20 feet tall.
Read More: The Best iPhone Gaming Apps for 2023
Halo Infinite
Halo Infinite is an exciting addition to the Halo game series. It introduces a powerful Forge AI toolkit and offers a new season with exciting features, including a Forge Beta for content creators. Here's a breakdown of its key features:
Features:
Forge AI Toolkit:
With the Forge AI toolkit, players can tap into campaign AI, opening up possibilities for new community-made experiences.
You can choose whether to team up with AI or challenge them, offering endless opportunities for exciting new Halo adventures.
Season 5 – Reckoning:
Season 5 brings a fresh Battle Pass with Flood-inspired rewards, new maps, a new game mode, and an advanced AI Toolkit for Forge.
Later in Season 5, Firefight: King of the Hill adds a thrilling twist to the beloved co-op wave-survival mode.
Free-to-Play Multiplayer:
Halo's renowned multiplayer experience is back and now free to play. Seasonal updates keep the gameplay evolving with unique events, modes, maps, and community-created content.
Forge Beta:
The legendary Forge content creation tool returns with enhanced features, including a visual scripting engine, object scaling, lighting and audio tools.
Forge now includes the AI Toolkit, allowing players to incorporate campaign AI into their creations. Whether you want to recreate iconic moments from previous Halo games or craft something entirely new, the potential for custom maps and game modes is limitless.
Cross-Generation and Cross-Platform Gaming:
Enjoy Halo Infinite on a range of platforms, from Xbox One to newer consoles and PC, with stunning 4K graphics.
Cross-platform play ensures you can connect with friends across different devices. On Xbox Series X and supported PCs, experience enhanced features like up to 120FPS and reduced load times, delivering a seamless next-generation gaming experience.
Read More: Best Nintendo Switch Controller for 2023
Conclusion
In conclusion, Halo Infinite promises an exciting evolution of the beloved franchise, offering a robust Forge AI toolkit, thrilling new content in Season 5, and a free-to-play multiplayer experience that keeps the game fresh and engaging. With cross-generation and cross-platform compatibility, it ensures that players across various devices can enjoy the Halo universe together. Whether you're a fan of epic campaigns or eager to dive into the creative world of custom maps and game modes, Halo Infinite invites gamers to embark on an endless journey of action, innovation, and community-driven adventures.