If you're a pet parent, then you know how important it is to keep an eye on your furry friend at all times. Furbo has been the leading brand in dog cameras for years, and their latest product, the Furbo 360 Dog Camera, is sure to please pet owners everywhere. This camera offers a full 360° view of your dog's surroundings, so you can keep an eye on them no matter where they are in the room.
In this article, we will discuss the features of the Furbo 360 Dog Camera, as well as how it works. So, if you're interested in learning more about this innovative product, keep reading!
Read More: Litter-Robot 4: Everything to Know
Release Date and Price
The Furbo 360 Dog Camera was released on June seventh. It is available for purchase on the Furbo website and on Amazon. The retail price of this dog camera is $210, but it is currently being offered at a discounted price of $167. This offer is only available for a limited time. So, if you're interested in purchasing the Furbo 360 Dog Camera, be sure to do so soon!
On the other hand, Furbo will continue to sell the standard Furbo for $169.
In comparison, Furbo's 360-degree competitor, Eufy Pet Dog Camera D605 goes for $199.99. It has a 1080p camera with a 170-degree lens, 2.5x zoom, and 270-degree panning.
Read More: Best Smart Home Tech for Pets
Furbo 360 Dog Camera: Design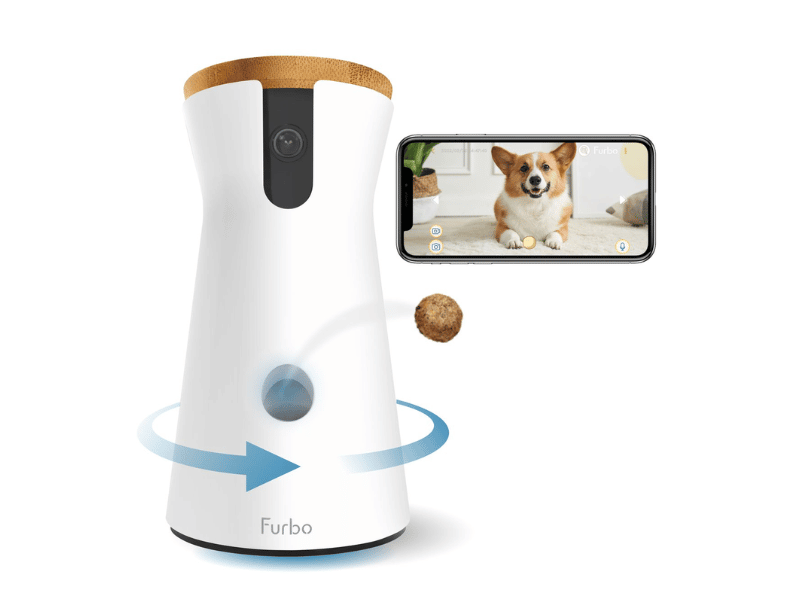 The Furbo 360 Dog Camera strongly resembles its predecessor. It is a small, hourglass-shaped dog monitoring camera that can be placed on any flat surface in your home. The device itself is white with Furbo's name on the front. The all-new camera offers a full 360° view, as opposed to the original Furbo's narrow 160° view. Like its predecessor, it has infrared LEDs that allow you to see your dog in low-light conditions.
For reduced treat jam, Furbo has now included a treat door that opens and closes automatically. Its treat tossing mechanism has also been updated. While the previous design uses a slingshot, the new one has a wheel mill design and an adjustable treat size to suit your dog's needs. Its dispenser can hold up to 100 treats and dispenses them one at a time. It works best with round-shaped treats with a diameter of 0.4 inches or 1 centimeter.
The plug now slips underneath for a neater look and the reset button is tucked inside, so you no longer need a tool to access it.
Read More: Best Dog Grooming Kits
How does the Furbo 360 Dog Camera work?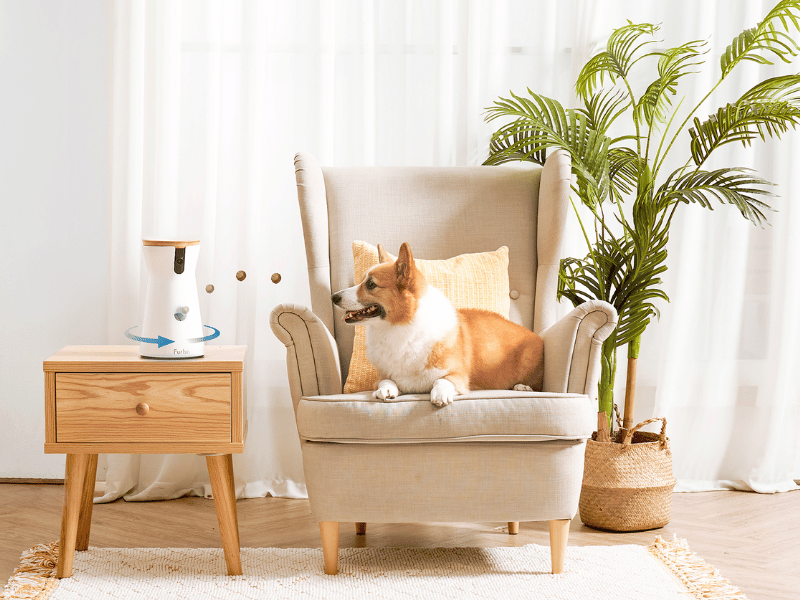 If you're unfamiliar with the Furbo dog camera, it was designed specifically for dog parents to have a " Furbo moment" with their pets when they're away. It's a pet camera that allows you to see, talk, and even toss treats to your dog wherever you are.
The Furbo 360 Dog Camera is very easy to set up and use. It works by connecting to your home's Wi-Fi network and streaming live HD video to your smartphone. It works with Amazon Alexa and lets you toss treats with simple voice commands.
Furbo employs 2048-bit RSA private-key encryption for data security. Every night at midnight, the footage is wiped from both the cloud and the app. You may also turn off the camera entirely.
It's also great to know that every Furbo Dog Camera purchase helps a rescued dog with food, healthcare & training.
Read More: Best Gifts for Dogs
Furbo 360 Dog Camera: Features
Camera
One of the best features of the Furbo 360 Dog Camera, as the name suggests, is the 360° view. This allows you to see your dog no matter where they are in the room with fewer blind spots than its predecessor.
The built-in camera records video in up to 1080p HD video. With its 4x digital zoom, you can see your dog close-up if you need to. It also has improved color night vision capabilities, so you can keep an eye on your furry friend even when it's dark out. It automatically adjusts when it is nighttime or when it detects low light.
Thanks to auto dog tracking, the Furbo 360 Dog Camera will automatically keep your dog in the frame so you'll never miss a moment.
Treat Dispenser
As mentioned above, this dog camera also has a treat dispenser that can hold up to 100 treats. Using the free Furbo app, you can toss a treat into the air for your pup to catch or run after. It's great for rewarding your dog when they've been good or just for giving them a little something to tide them over until you get home. It also has an auto-troubleshooting feature for when the treats get stuck.
Two-Way Audio
Another feature that Furbo is known for is its two-way audio. With its high-quality microphone and built-in speaker, you can talk to your dog and hear them bark or whine in return. There's also a customized snack call feature that lets you record your voice telling your dog it's time to eat.
Alert System
Furbo also includes a free Barking Alert system that uses AI technology to detect when your dog is barking, whining, or howling. You'll then receive a push notification on your smartphone so you can check in on them. This is a great feature for pet parents who are away from home and want to be alerted if their dog is in distress.
Furbo Dog Nanny
If safety is your main concern, Furbo has you covered with its Furbo Dog Nanny subscription service. This add-on service unlocks more real-time alerts on your phone. It includes dog barking, and emergency noises, such as the sound of glass breaking. It even notifies you if it detects a person in your home while you're away. You can have up to 15 seconds of cloud recording, so you can always go back and check on what Furbo has recorded.
With its Doggie Diary feature, Furbo Dog Nanny records all of your dog's cute moments. It makes a daily 60-second highlight video that you can share with friends and family.
FurboDog Nanny costs $6.99 a month or $69 annually. A free 30-day trial period is available, so you can test it out before making any payments.