DJI, the world's leading drone manufacturer, has just released its newest drone model – the DJI Mini 3 Pro. This new drone packs more features than its predecessor with the same compact and lightweight design that makes it so easy to carry around. With its larger sensor, built-in obstacle avoidance, and intelligent flight modes, the Mini 3 Pro is the perfect drone for anyone looking to take their photography and videography to the next level.
Here's everything you need to know about this latest DJI mini drone:
DJI Mini 3 Pro: Release date
DJI's Mini 3 Pro was released on May 10 to succeed the older DJI Mini 2 that was released back in 2020. The new drone is currently available for pre-order on DJI's website and at select retailers. It will go on sale officially on May 17.
Read More: Best Drones of 2021
DJI Mini 3 Pro: Pricing
The DJI Mini 3 Pro comes in three configurations. The most basic option is the Mini 3 Pro with no remote controller, which costs $669. This is for people who already have a compatible controller. Alternatively, the second bundle includes the DJI RC-N1 controller for $759. The most expensive bundle is the DJI Mini 3 Pro with the new DJI RC Smart Controller, which costs $909. For comparison, the Mini 2 cost $449 when it launched.
A Fly More Kit is offered as usual, and when compared to the individual pricing of the included accessories, it provides exceptional value for money. Two Intelligent Flight Batteries, a three-battery Charging Hub, two propeller sets, and a Shoulder Bag are all included. The Fly More Kit will cost you $189.
DJI Mini 3 Pro: Design and Build Quality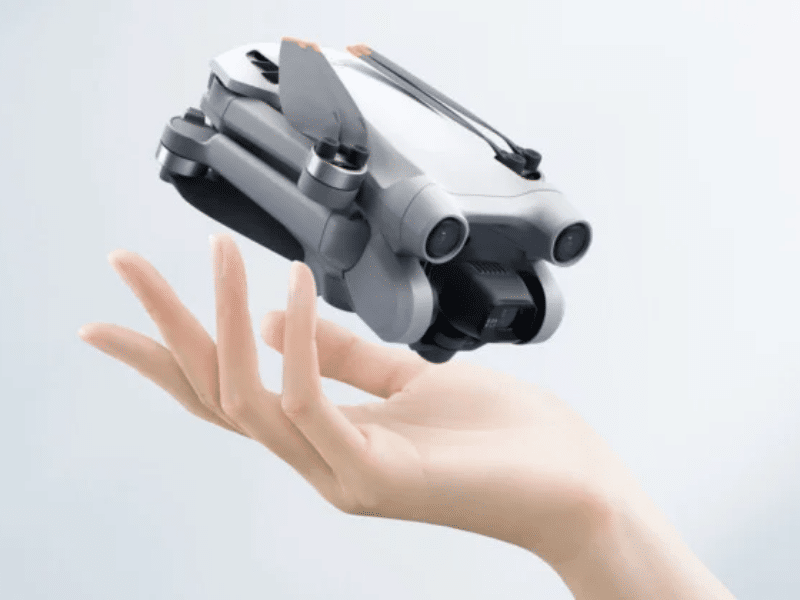 DJI has managed to retain its 249 grams weight with the new DJI Mini 3 Pro while still packing in some great features. This sub-250 gram drone will let you fly without having to register with the FAA in the United States and other countries.
The build quality is excellent, as you would expect from DJI. It has a light-gray finish in a more rounded frame that looks sleek and professional. At 145x90x62mm folded down, the Mini 3 Pro has a longer, wider, and more robust frame than its predecessor. The propellers and arms have been adjusted for a more aerodynamic design, which extends the flight time.
DJI RC-N1 vs DJI RC Smart Controller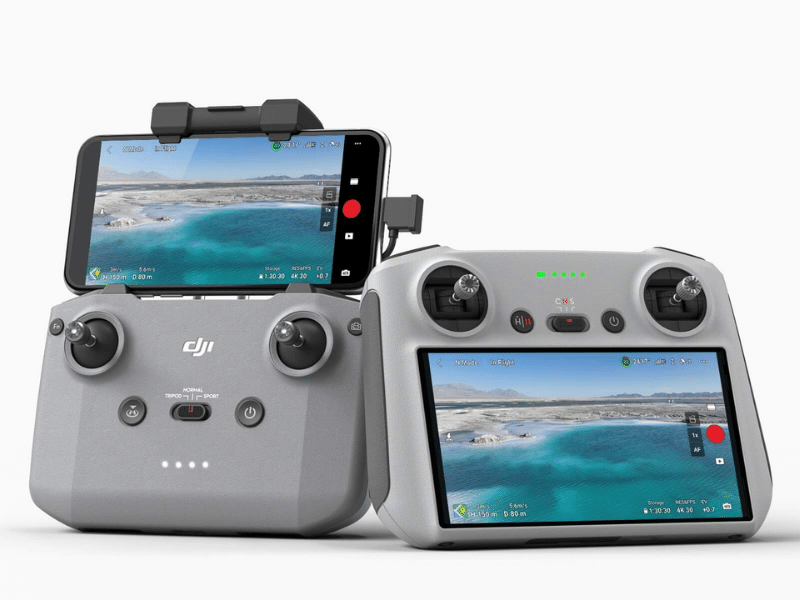 The DJI RC-N1 is the controller that comes with the standard kit. It is the same lightweight and simple remote that you get with the Air 2S, Mavic Air 2, and Mini 2. It features a telescopic phone holder with no built-in screen. Operators need to use a mobile device with the DJI Fly app installed to fly the DJI Mini 3 Pro.
The DJI RC Smart Controller, on the other hand, is a more full-featured remote control that includes an integrated 5.5-inch with 700-nit brightness. It comes with the DJI Fly app pre-installed.  It offers enhanced monitoring, composing, and framing. This controller also has a quicker setup because you simply need to screw on the thumbsticks to begin flying. As an added bonus, you can also use this controller with the DJI Mavic 3.
DJI Mini 3 Pro: Features and Performance
The DJI Mini 3 Pro is a big step up from the DJI Mini 2. It now features a three-way obstacle detection and avoidance system. It can be found on the aircraft's top, bottom, and rear. You can choose how the sensors work. You can either let the drone stop in position or automatically find a path around an object in its way using the Advanced Pilot Assistance System 4.0 (APAS).
The addition of these sensors also unlocks DJI's whole FocusTrack suite, which is a first for a DJI Mini drone. This means you may choose a subject and the Mini 3 Pro will automatically keep that subject in the frame.
In-flight, Mini 3 Pro offers three modes: Sport, Normal, and Cine. Cine offers a slower flight speed while the Sport is the fastest mode, with the drone able to reach 35.7mph. Despite its compact size and lightweight build, the Mini 3 Pro can withstand winds of up to 24 mph.
The new improved battery is claimed to provide a flight time of up to 34 minutes. If you need a longer flight, DJI will be selling an extended battery that will allow for epic 47-minute long flights. Unfortunately, this will come at the cost of an increased weight of above 250g and slightly reduced portability.
DJI Mini 3 Pro: Image and video quality
Another major update with the DJI Mini 3 Pro is the image sensor. DJI has managed to pack in a 12.1MP 1/1.3-inch sensor which is capable of capturing 48MP photos that can shoot 4K/60p video and 150Mbps bitrate. HDR video recording at frame rates up to 30fps is offered for the most vivid detail.
The gimbal has also been fully overhauled, allowing for more camera angles than ever before. It can now rotate 90-degrees for vertical format pictures and videos with zero loss in quality.
The Mini 3 Pro records in either a basic color profile or the flat D-Cinelike look. Its D-Cinelike offers greater post-processing options, while a Normal color profile is offered for rapid in-app editing.
There's also a digital zoom option that provides 2x zoom at 4K resolution, 3x zoom at 2.7K, and 4x zoom at FHD. MasterShots is also available on the Mini 3. This feature performs a variety of automated QuickShot movements, including Dronie, Helix, Boomerang, and Circle. It then automatically stitches them together to create a shareable clip.es.