Met Gala is one of the most talked-about fashion events in the world. It's a prestigious event that everyone looks forward to each year.
It is an annual fundraising gala for the benefit of the Metropolitan Museum of Art's Costume Institute in New York City. This year's gala theme is American Independence.
Some Hollywood celebrities wore luxurious, bold, and flashy outfits as they arrived at a charity event hosted by Vogue Editor-in-Chief, Anna Wintour. Actor and recording artist Keke Palmer, and actor, writer, and director Ilana Glazer hosted the Livestream.
While all of them were definitely stunning, there are some Met Gala looks which stood out more than others.
We want to share with you our top 10 favorite Met Gala looks this year.
Supermodel Iman nailed this year's Met Gala by wearing a gold jumpsuit by Harris Reed. She paired her outfit with a feathery overskirt and a matching headpiece. Iman's look was really a head-turner as her golden outfit glowed the brightest ray of light making her look like an angel.
She looks incredibly striking in her Met Gala look, which was perfect for her. Met Gala outfits like these are the ones that will go down as iconic Met looks of 2021.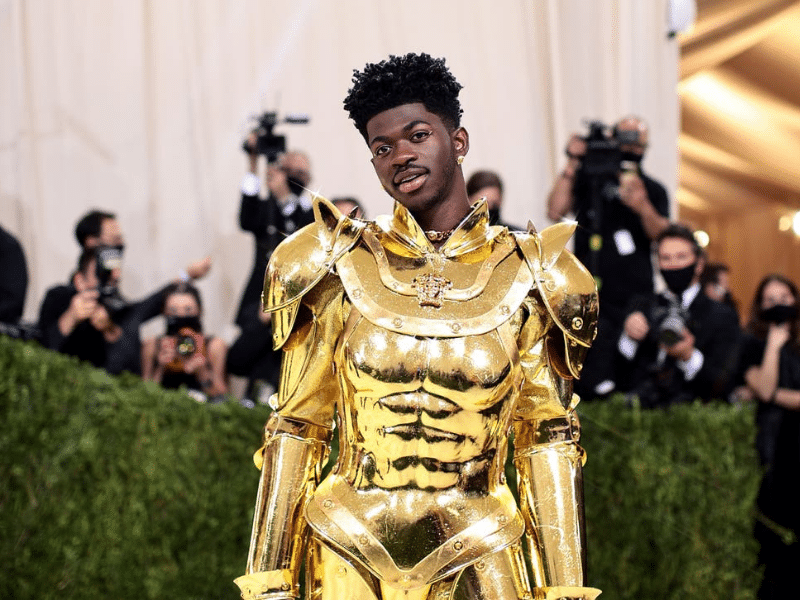 Lil Nas was one of the most talked-about Met Gala attendees for this year and his Met outfit was another huge head-turner of Met 2021.
Lil Nas X attended the Met Gala in New York City for the first time on Monday. Wearing custom Versace, he looked radiant and incredible. The rapper not once, not twice, but three times dominated the event by revealing three regal outfits. He de-robed from a royal gown to a gold armor outfit and then a glittering bodysuit.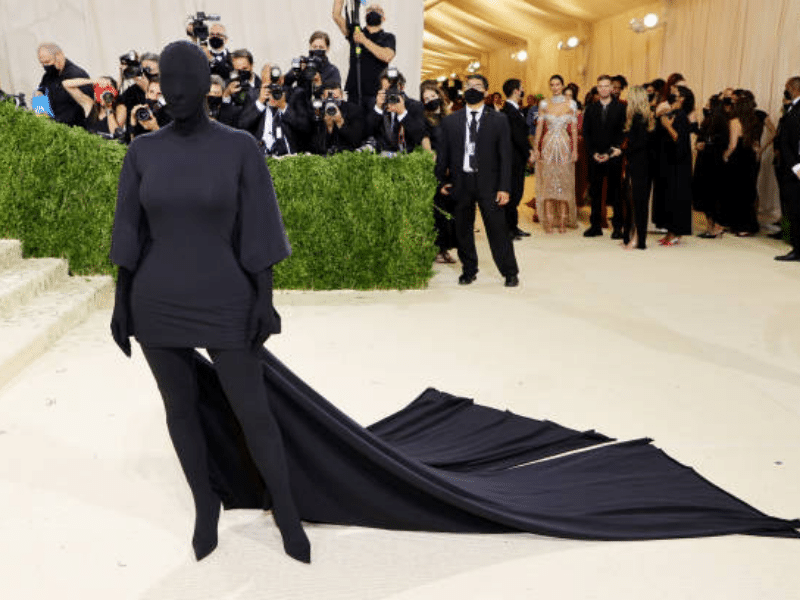 Kim Kardashian's faceless bizarre Met Gala black dress outfit has everyone talking.
Kim's show-stopping attire for Met Gala 2021 was a full-body covered Balenciaga. She also wore full face makeup despite wearing a head mask.
This outfit made a huge impact on social media and quickly made her the meme of the day. People claimed it does not resemble American Independence. Kim later captioned on her Instagram "What's more American than a T-shirt head to toe?"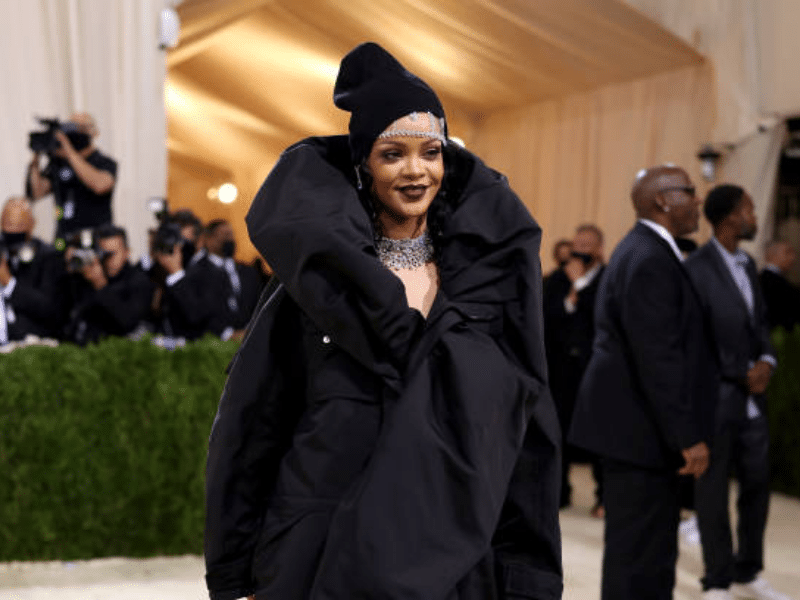 Rihanna was the last Met Gala attendee to unveil her Met outfit. She closed out the night wearing a stunning Balenciaga overcoat and matching hat from Stephen Jones Millinery. Its voluminous scale and black ruffles were a sleek take of all-American style.
Her seven appearances at the event have all been remarkable, and she's worn some of the most famous outfits ever seen at the Costume Institute gala.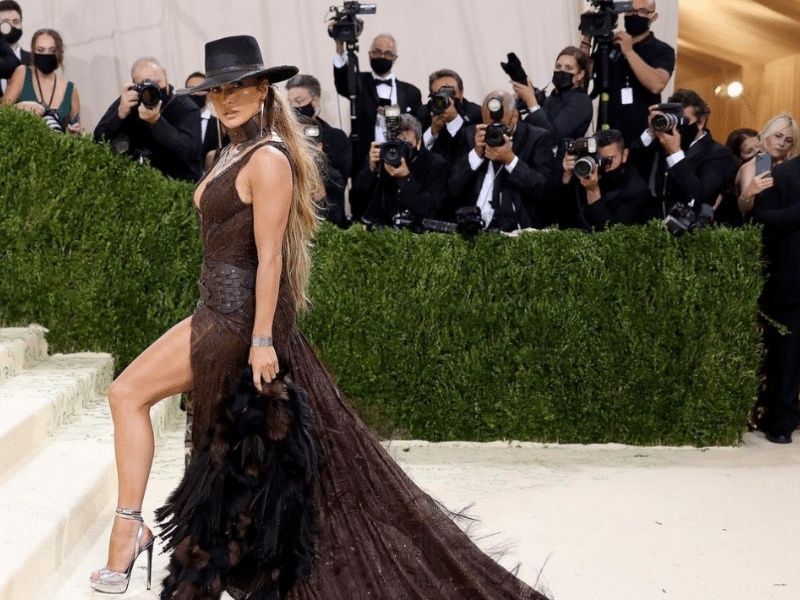 Gorgeous as ever, JLo walked the carpet in a daring monochromatic brown attire by Ralph Lauren. Her plunging neckline, feathery embellishments, sexy slit, and matching cowgirl hat made her look stunning.
The Met Gala is no stranger to JLo's beauty and fashion sense.
JLo's Met gown is one of our favorites from Met 2021 outfits!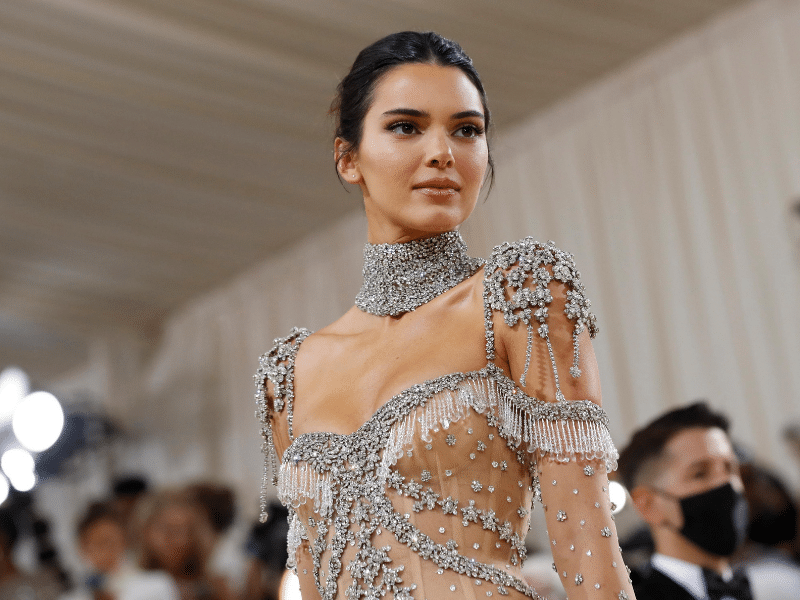 Kendall Jenner took the spotlight in a stunning Givenchy gown by Matthew Williams.
Her sheer dress was very stylish embroidered with hundreds of glittering rhinestones. The style was said to be inspired by Audrey Hepburn's dress from My Fair Lady, which she wore in the film. Jenner's dress was a contemporary spin on Audrey Hepburn's outfit.
Her image perfectly complemented her dress as she walked along the red carpet.
She's a supermodel for a reason.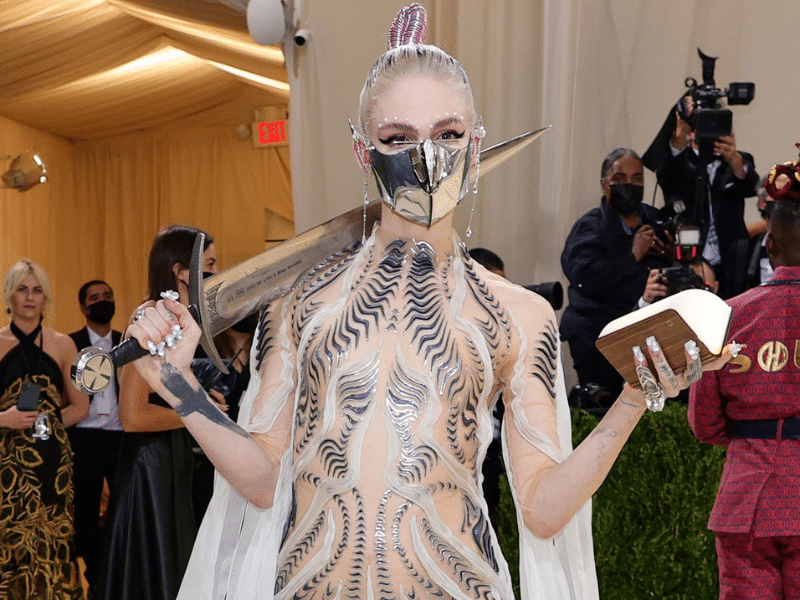 Grimes Met Gala's outfit was very eye-catching and looks like she's ready for a battle bringing her sword with her.
According to Vogue, the singer wore an Iris van Herpen designed "Dune" inspired attire. Grimes wore an Iris van Herpen custom gown, which the designer spent over 900 hours perfecting. She paired her dress with an enormous sword and a silver mask by Chris Habana.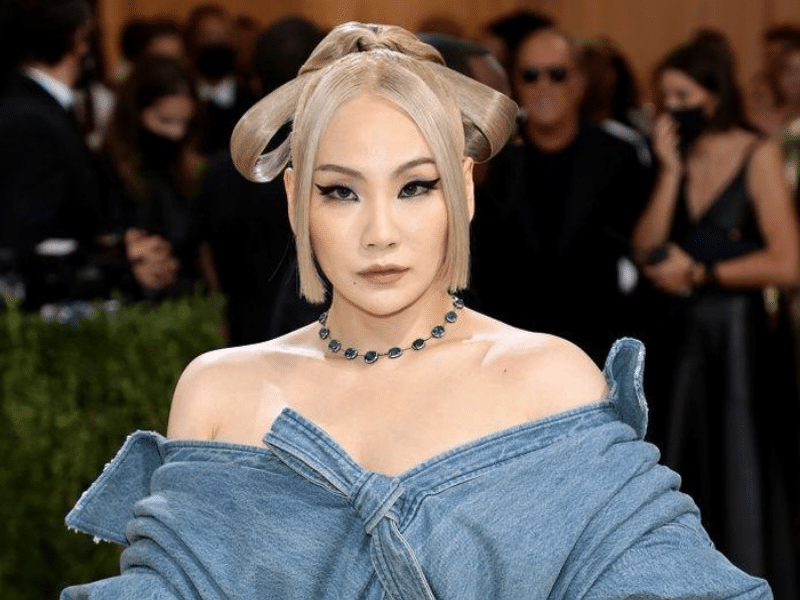 CL surprisingly made her Met Gala debut a memorable one and made K-pop history.
She graced the red carpet in a custom blue denim coat and paired it over a white brief fitting with the theme of American fashion. The coat was reminiscent of the traditional Korean attire known as the hanbok. Alexander Wang, a high-end fashion house, designed her attire. Sparkly heels and sculptured blonde hair completed CL's outfit.
CL and Rose became the first female K-pop stars to attend the Met Gala.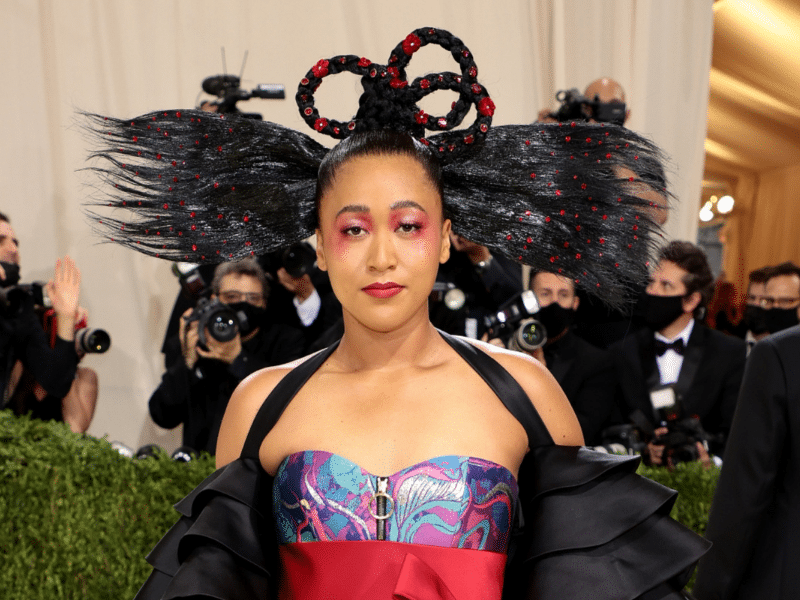 At the Met Gala, Naomi Osaka displays a spectacular change wearing a striking look from Loui Vuitton specially designed by Nicolas Ghesquière and co-designed by her sister, Mari Osaka.
The 23-year-old was an event co-chair of the fashion's biggest night this year. Osaka's attire included a bright corsetted dress and a silk-mix cape featuring 22 ruffles.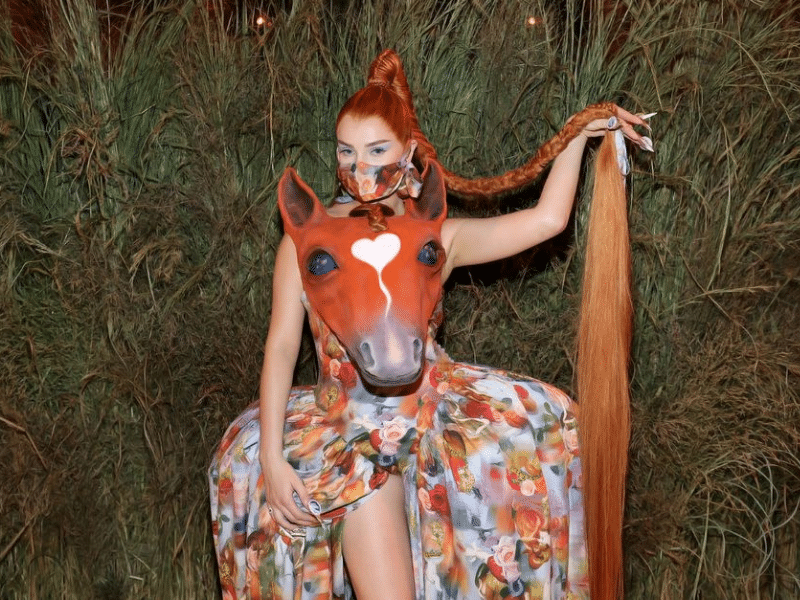 German singer-songwriter Kim Petras made a major statement with her 2021 Met Gala look!
One thing that was statement-making about Kim's outfit was her horse-inspired look by Collina Strada. She also paired her bold Met outfit with a lengthy braided ponytail and a dramatic bright print skirt.
Petras said she grew up riding horses and was representing all horse girls and horse humans with her outfit.
According to the singer, the entire appearance took roughly four hours to prepare prior to the event. The dress, on the other hand, took two weeks to make.