In an age where globetrotting is the norm and businesses are expanding their horizons, the importance of efficient travel management cannot be overstated. Whether you're a seasoned corporate traveler, a travel manager responsible for keeping your team organized, or a frequent adventurer, having the right tools at your disposal can make all the difference in ensuring smooth journeys and cost-effective trips.
As we embark on a new year, it's time to explore the top travel management software tools that promise to streamline your travel experiences and elevate your wanderlust to new heights in 2023. From itinerary planning to expense tracking and everything in between, let's dive into a world of convenience and innovation.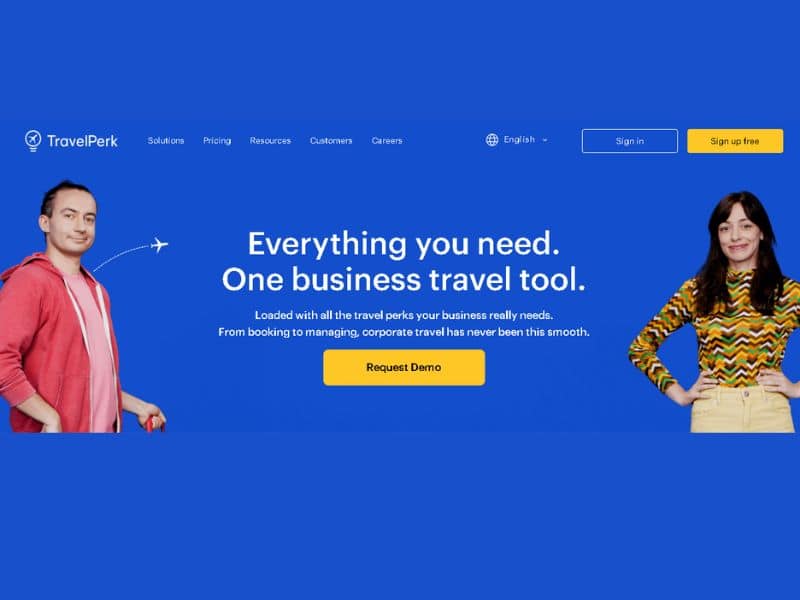 TravelPerk: Revolutionizing Business Travel Management
If you've ever wished for a magic wand to simplify your business travel management, look no further than TravelPerk. This travel management software is your modern-day sorcerer, wielding a host of features that can turn the complexity of business travel into a seamless, hassle-free experience.
Access the World's Largest Business Travel Inventory
TravelPerk opens the door to the largest business travel inventory on the planet. Say goodbye to limited options and hello to a world of choices.
Custom-Made Reporting at Your Fingertips
Tired of sifting through heaps of data? TravelPerk's custom-made reporting tools put the power in your hands, giving you insights that matter most to your business.
Seamless Integration with Your Expense Management Tools
Streamline your financial tracking by integrating TravelPerk with your expense management tools. It's like having your travel expenses and budgets on autopilot.
Unlock Savings with VAT Reclaim Solutions
Every penny counts. TravelPerk helps you save money with VAT reclaim solutions, ensuring you get back what's rightfully yours.
Lightning-Fast Customer Care
Ever wished customer support could be as fast as your travel plans? With TravelPerk, you get a response from our customer care team in just 15 seconds.
Automate Travel Policies for 90%+ Compliance
Travel policies made easy. Automate your travel policy, achieve compliance rates of over 90%, and empower your team to book within preset limits.
Safety and Flexibility at Your Fingertips
TravelPerk's safety and flexibility solutions, including Flexiperk and TravelCare, ensure you're prepared for any travel scenario. Cancel or modify bookings with ease, and stay updated on the latest travel requirements and safety information.
Real-Time Visibility and Insights
Gain full control over your company's travel data with real-time visibility. TravelPerk offers advanced reporting for deep insights into travel spend and program performance.
7-Star Customer Care
TravelPerk's Customer Care Team, rated #1, is available 24/7 to support your travelers before, during, and after their trips. We ensure they have a smooth journey, solving any hiccups along the way. With TravelPerk, you can focus on what truly matters while leaving the travel magic to us.
Flightfox: Elevating Corporate Travel to New Heights
In the fast-paced world of corporate travel, Flightfox emerges as the beacon of innovation, blending cutting-edge technology with human expertise to craft the ultimate travel experiences for your team. With a track record of serving 104,415 individuals from 5,895 companies, Flightfox has set a new standard in corporate travel management.
A Comprehensive Travel Solution
Flightfox offers a complete travel solution that leaves no stone unturned. From scouring the best flight deals to booking hotels, cars, and more, we handle it all seamlessly.
Global 24/7 Support
Need assistance at any hour, across different time zones? Flightfox has you covered with a global support network of technical experts spread across five continents, ready to assist you in real-time.
Miles & Upgrades Optimization
Maximizing your loyalty benefits is our specialty. Flightfox proactively ensures you get the most out of miles and upgrades on every trip and transaction.
Unbeatable Savings, Guaranteed
Our deep technical analysis doesn't just find deals; it regularly beats retail prices, and we guarantee it. Say hello to maximum savings without the hassle of hunting for discounts.
Effortless Amendments
Bid farewell to the headache of making changes or cancellations. Flightfox takes care of it all, sparing you from those tedious calls to airlines or hotels.
Versatile Access
Manage your travel effortlessly through our cloud-based platform, or if you prefer, reach out via email or phone. Flightfox adapts to your preferred communication style, ensuring a seamless experience.
Salestrip: Expense Management Simplified with Salesforce
When it comes to managing expenses, Salestrip sets a new standard by focusing on the "why" rather than the "how." As the only expense management solution integrated with Salesforce, Salestrip offers a streamlined approach to tracking and managing expenses that go beyond the surface.
Expense Management on Salesforce
Do you ever wonder if that business trip you're planning will truly contribute to your company's revenue? Is it essential for sealing a deal or retaining a valuable customer? With Salestrip, your employees can effortlessly manage expenses directly within Salesforce. This integration allows you to gain insights into how every penny spent contributes to your organization's growth. It empowers your team to conduct business effectively from locations beyond the traditional office, ultimately driving your organization's expansion.
Spend Smart to Achieve More
As business travel resumes, scrutinizing employee spend becomes critical. Expenses need to be not just accounted for, but justified and aligned with tangible business outcomes like revenue and customer retention. Salestrip helps you navigate this challenge seamlessly, ensuring that every expense inch is a step toward going the extra mile for your business.
Unlock the Power of Expense Conversion
Ready to turn expenses into tangible business growth within Salesforce? Get our guide to harnessing the potential of expense conversion with Salestrip. It's time to rethink how expenses can catalyze your organization's success.
Payhawk: Revolutionizing Business Spend Simplified
At Payhawk, we're not just reinventing business spending; we're rewriting the rules with an all-encompassing global solution that combines corporate cards, expense management, Accounts Payable, and seamless ERP connections. Join finance teams in 32 countries today and experience a spend management solution designed specifically for finance professionals.
Control Corporate Card Spending at Scale
Payhawk empowers you to take control of corporate card spending on a grand scale, surpassing the limitations of traditional cards. With a suite of card controls, you can establish your own spending policies, automatically reconcile card payments, and enjoy a high global acceptance rate on Visa cards.
Streamlined Solutions for Your Business
Increase Spend Control: Customize controls to manage company policies, spending, and approvals, all in one central location.
Simplify Travel Expenses: Effortlessly track mileage, per diems, and reimbursements, all within a single, user-friendly platform.
Manage Subscriptions: Monitor all your company's recurring payments conveniently from a single dashboard.
Real-Time Reconciliation: Keep your data flowing seamlessly from the first tap to month-end, ensuring accuracy and efficiency.
Simplify Global Operations: Easily oversee every aspect of company expenses, no matter where your operations extend.
Advance Your Sustainability Efforts (New): Keep track of your carbon footprint in your operations and supply chain, contributing to a greener future.
Corporate Cards, Expense Management, Accounts Payable, and ERP Integration in One
Payhawk seamlessly combines Accounts Payable, corporate cards, and expense management into a groundbreaking spend solution. Enjoy customizable approval flows, streamlined bank payments, and the ultimate control over your spending. With support for multiple currencies, making global payments has never been easier, all within a single, efficient tool.
Seamless ERP Integration
With Payhawk, data flows effortlessly between your payment and ERP systems, eliminating the need for manual uploads. Get real-time insights into costs and automate the reconciliation of card and bank payments.
Fyle: Modern Expense Management Made Simple
In today's fast-paced work environment, Fyle takes the hassle out of expense management. Say goodbye to wasted hours on manual expense reporting, approvals, and processing.
Effortless Receipt Tracking
With Fyle's intelligent mobile expense reporting app, receipt tracking becomes a breeze. Easily monitor and manage business expenses from familiar apps like G-Suite, Outlook, and Slack. Plus, you can bulk upload receipts to Fyle, transforming them into draft expenses on your expense management dashboard in an instant.
Automated Business Rules
Take control of expense policies and employee parameters with Fyle's automated pre-submission checks. Configure rules that ensure compliance and put an end to expense fraud. Fyle's digital audit trails meticulously document every action taken on each individual expense.
One-Click Expense Reporting
Fyle simplifies the expense reporting process for employees with easy expense tracking features and draft reports. Say goodbye to complex submission procedures and embrace the simplicity of Fyle.
Conclusion