Radio Controlled Cars have been around for decades, but they are becoming increasingly popular as technology advances. With the right vehicle and controller, you can reach speeds of up to 70 mph and enjoy a thrilling driving experience that rivals real-life racing.
In 2023, there will be an even wider selection of RC cars to choose from! From classic on-road vehicles to off-road monsters, monster trucks and even stunt cars, there's something for everyone in the world of radio controlled car racing. Whether you're looking for speed, rechargeable batteries, good battery life or style, we've rounded up some of the best fastest RC car available in the RC car market so you can find the perfect fit for your needs.
Read More: The Best Spark Plugs for 2023
Redcat Racing Lightning EPX Drift Car
The Redcat Racing Lightning EPX Drift Car stands out as one of the best RC cars for 2023 due to its impressive features and impressive performance. This RC car was designed with drifting in mind, making it perfect for anyone who loves to hit the track sideways. The aluminum-capped oil-filled shocks with selectable mounting positions are perfect for customization, while the tunable four-wheel independent suspension and adjustable ride height make it easy to adjust for any track or driving style.
Another feature that makes this car stand out from the competition is the adjustable toe angle and camber angle, which allows drivers to fine-tune the handling to their liking. Additionally, thus 1:8 scale RC car has the all-wheel drive system ensures excellent traction and control, making it easier to drift around corners with precision. Overall, the Redcat Racing Lightning EPX Drift Car is a top pick for anyone who wants a highly tunable and customizable best remote control car that is perfect for drifting.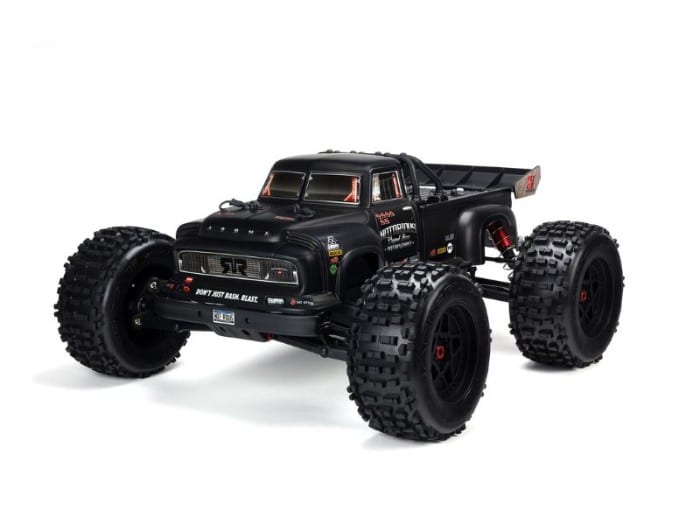 ARRMA Notorious BLX Stunt RC Truck with Spektrum Firma RTR
For those looking for a radio-controlled car that not only performs well but is also tough and durable, the ARRMA Notorious BLX Stunt RC Truck with Spektrum Firma RTR is a top contender. This 1:8 scale four-wheel-drive stunt truck is built to impress, reaching speeds of 60-plus mph with a 6S LiPo battery and the optional speed pinion gear. Its latest-tech radio controls, including the Spektrum SLT3 radio, dual-protocol receiver, and Smart ESC, provide precision and accuracy during stunts and maneuvers.
What sets this truck apart is its Fifties-style body, which not only looks cool but also features a "Real Steel" finish that gets better with wear and tear. Overall, the ARRMA Notorious BLX Stunt RC Truck with Spektrum Firma RTR is the best remote control cars for 2023 if you want a high-performing, durable, and badass-looking stunt truck.
Read More: The Best Convertibles for 2023
Rastar Licensed Ferrari F40 RC Car
If you're looking for the perfect RC car for 2023, look no further than the Rastar Licensed Ferrari F40 RC Car. This 1:14 scale replica is an absolute gem of attention to detail, boasting working headlights and taillights and adjustable alignment. The exterior and interior of this fast RC car is as close to the real thing as possible, complete with actual shock absorbers and functional pop-up headlights.
Though this toy race car might only reach a top speed of 5-10 mph, the turning radius is amazing, perfect for navigating around obstacles in the house. Overall, the Rastar Licensed Ferrari F40 RC Car is a must-have for any serious radio controlled car enthusiast, as well as any lover of the iconic Ferrari F40.
Riaario RC Buggy
The Riaario RC Buggy is undoubtedly one of the best RC car that you can buy in 2023. This fastest car in terrain is designed to handle any terrain and can reach insane speeds of up to 50mph, making it the fastest all-terrain, brushless 2847–3200KV motor car out there. It's also a beast when it comes to handling, thanks to its seven adjustable metal pull rods and oil-filled shocks with a coil-over design, which make maintenance a breeze.
The carbon-fiber chassis of the car is what gives it an edge over other RC models, making it ultra-lightweight yet incredibly durable. With its sleek design and advanced features, the Riaario RC Buggy is sure to be a crowd favorite among toy RC car enthusiasts who want nothing but the best.
Conclusion
The best radio controlled cars for 2023 offer a wide range of features and capabilities to suit any driving style. From the Redcat Racing Lightning EPX Drift Car that offers precision drifting, to the ARRMA Notorious BLX Stunt RC Truck with Spektrum Firma RTR for durable stunts, all the way to the sleek yet powerful Riaario RC Buggy—there's something out there for everyone. Whether you want speed or control, customization or durability, these top-rated models are sure to provide an unforgettable experience. So why wait? Get your hands on one of these amazing remote-controlled cars today!