As the world continues to become more and more eco-friendly, electric bikes are becoming increasingly popular than traditional bike. Electric bikes are a great way for people to get around in an environmentally friendly way while still having the speed and convenience of traditional bicycles. With so many options on the market, it can be hard to decide which one is best for you.
That's why we've put together this guide to help you choose the best electric bike for your needs in 2023! We will look at all the important factors like range, cost, power output and design before making our top picks. So read on to find out which electric bike is right for you!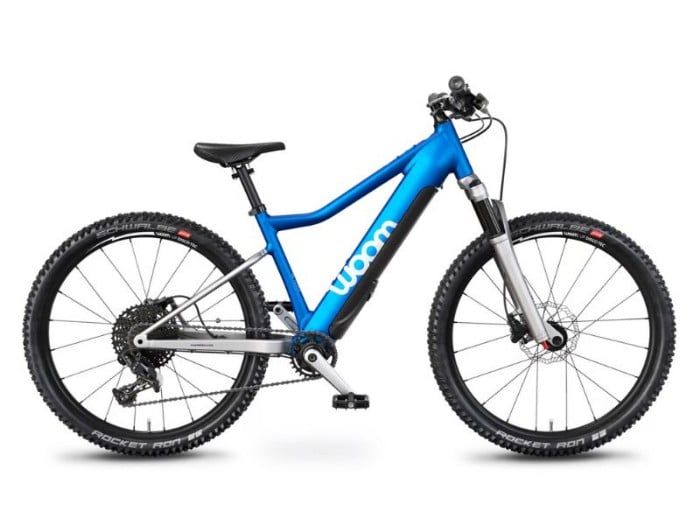 woom UP 5
The woom UP 5 is undoubtedly one of the best electric bikes for 2023. It is not just another e-bike that can go fast, but rather a well-thought-out, kid-specific bike that provides a smooth, natural ride. The motor is equipped with both cadence and torque sensors, ensuring that the bike responds to the rider's pedaling style.
Additionally, the motor has a maximum speed of 12mph. After which it automatically switches off to allow the rider to use their pedal power to go faster. This feature is a great safety measure, particularly considering that the bike is designed for kids aged seven years and older.
Furthermore, the woom UP 5 is ultra-lightweight, weighing only 15.9kg, which makes it easy for kids to maneuver. It also comes with a suspension fork that absorbs more shock, providing the rider with a more comfortable ride.
In terms of safety, woom recommends checking state and local laws on e-bikes, wearing a helmet, high-vis clothing, and bike lights, and being mindful when mounting and dismounting. Since e-bikes are heavier than traditional bikes. Overall, the woom UP 5 is a well-rounded, dynamic electric mountain bike for kids aged seven and up, designed to turn every ride into an adventure.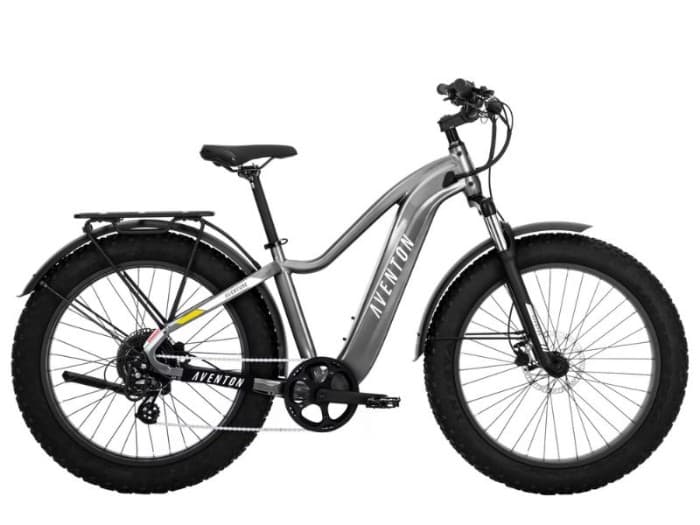 Aventon Aventure 2
The Aventon Aventure 2 unquestionably stands out as the best electric bike choice for 2023. This magnificent bike is built with an enviable infrastructure to make it capable of handling any terrain you can imagine. The bike is equipped with a powerful torque sensor that instantly analyzes your pedaling cadence and provides you with the perfect assist. Thus preserving battery life and expanding your riding range.
Additionally, it has a 750W motor that propels it forth on an adventure-enhancing fat tire with a suspension fork that ensures a smooth and comfortable ride, even on the harshest off-road trails. It sports a stunning metal fender and hydraulic disk brakes that allow you to tackle any obstacle smoothly. While offering you the needed level of confidence to handle any situation.
Compared to other e-bikes in this category and price range, the Aventure 2 presents itself as a formidable force, blending seamlessly into the frame, rendering an attractive design no other bike could match. Furthermore, the fully integrated battery provides a remarkable visual appeal that completes the look and enhances its functionality.
All of these distinctive features on the Aventon Aventure 2 make it the best electric bike for 2023, not just because of its technical superiority but because of the superb adventure experience it offers every rider.
Lectric XP 3.0
The Lectric XP 3.0 undoubtedly stands out as one of the best electric folding bikes for 2023. Its design boasts of numerous upgrades that make it more powerful, quieter, and smoother than its predecessors. With a 1000W Peak Rear Hub Motor, this e Bike generates up to 55nm of torque, providing riders with an exhilarating experience. It also comes with front and rear lights.
Riders can choose between Long-Range and Standard options for the 48V lithium-ion battery, which powers the bike for up to 65 miles. Additionally, the XP 3.0 comes equipped with a plush front suspension fork that absorbs shock and improves ride comfort.
Its Pedal-Assist and Throttle abilities, coupled with Class 1, 2, or 3 eBike speed options, allow for an even more effortless riding experience. Overall, the combination of unparalleled power, reliability, and numerous accessory options. The Yepp Seat and a Passenger Package, make the Lectric XP 3.0 the ideal choice for the coming year.
Blix Packa Genie Cargo eBike
The Blix Packa Genie Cargo eBike undoubtedly stands out as one of the best electric bikes on the market today, and is poised to remain so in 2023. With its numerous features and unparalleled functionality, it is a game-changer in the world of electric cargo bikes.
Its modular rear rack system offers unparalleled customization options. Allowing riders to carry up to 200lbs in over 200 different combinations. The front and rear racks are equipped with smart mounting points. Making it easy to fit everything you need to carry.
Additionally, this electric cargo bike has 750W motor offers ample power for any terrain. While its single and dual battery options provide a range of up to 80 miles per charge, allowing riders to tackle even the toughest hauling tasks without breaking a sweat. The bike's low step-through frame accommodates riders of all heights, and its compact design ensures easy handling and storage.
Finally, the Blix Packa Genie Cargo eBike is built with a high level of attention to detail. Allowing for uncompromising design that is both visually compelling and utility-friendly. All these features make the Blix Packa Genie Cargo eBike the best option for anyone looking for a reliable, versatile and stylish electric cargo bike in 2023.
The Rad Power Bikes RadRunner 2
The Rad Power Bikes RadRunner 2 stands out as one of the best fat tire electric bike for 2023. This is due to its exceptional combination of style, function, and customizability. This moped-style ebike comes with rear rack that is not only visually impressive, but it also delivers on practicality by providing ample carrying capacity for cargo, passengers, and even your favorite hot beverage.
With over 330 accessory combinations available, you can tailor this ebike to your specific needs and preferences. Additionally, the RadRunner 2 boasts an impressive range of up to 45+ miles per charge, a powerful 750W motor, and a high weight capacity of 300 pounds.
Riding this ebike is a joy thanks to its simple single-speed drivetrain, user-friendly push-button control pad, and comfortable step-thru frame. Finally, the included 15mm thicker saddle ensures that you can enjoy extended rides in complete comfort.
Overall, the Rad Power Bikes RadRunner 2 is a top contender for the best electric bike of 2023. Offering unparalleled style, versatility, and performance.
Conclusion
When it comes to finding the best and high performance electric bike for 2023, there are numerous options available. From the Lectric XP 3.0's powerful 1000W Peak Rear Hub Motor and plush front suspension fork, to the Blix Packa Genie Cargo eBike's cutting-edge modular rack system and extended range of up to 80 miles per charge, or even the Rad Power Bikes RadRunner 2's simple single-speed drivetrain and user-friendly control pad – each bike offers an impressive combination of style, function, customizability, power and performance that make them top contenders in this competitive market. Regardless of which one you choose, rest assured knowing that any of these amazing electric bikes will be sure to provide a thrilling ride throughout all your upcoming adventures!