Cryptocurrency has become increasingly popular in recent years, and bitcoin is the most widely used form of digital currency. As bitcoin continues to grow in popularity, it's important for users to find secure crypto wallets that protect their coins from theft or loss. With so many options available, it can be difficult to know which bitcoin wallet is best for you.
To help you make an informed decision about your bitcoin storage needs, we've compiled a list of the best bitcoins and crypto wallets for 2023. Whether you're looking for a simple online wallet or a more advanced hardware device with added security features, this guide will provide all the information you need to choose the right and best crypto wallet for your needs.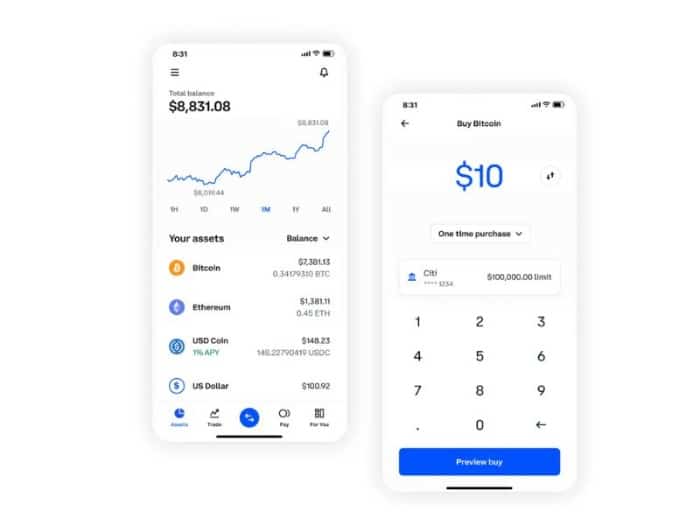 Coinbase Wallet
The Coinbase Wallet is an ideal choice for those looking for a reliable bitcoin and crypto wallet in 2023. Coinbase Wallet is one of the exchange's most popular hot wallet solutions, offering users a secure way to store and manage their crypto assets. The app is easy to navigate and provides a secure environment for storing your digital crypto assets, with sophisticated security measures such as two-factor authentication and encryption to protect users from any potential cyber threats.
Additionally, Coinbase Wallet supports a wide range of digital assets, including not only bitcoin but also popular coins like Litecoin, Dogecoin, and Ripple. This versatility makes it suitable for experienced traders who want access to a variety of different crypto options. Furthermore, Coinbase Wallet's user-friendly interface allows even those with little experience investing in crypto to easily purchase their currency of choice with their major bank account. With its comprehensive security features and wide selection of supported currencies, Coinbase Wallet is the perfect bitcoin and crypto hardware wallets for 2023.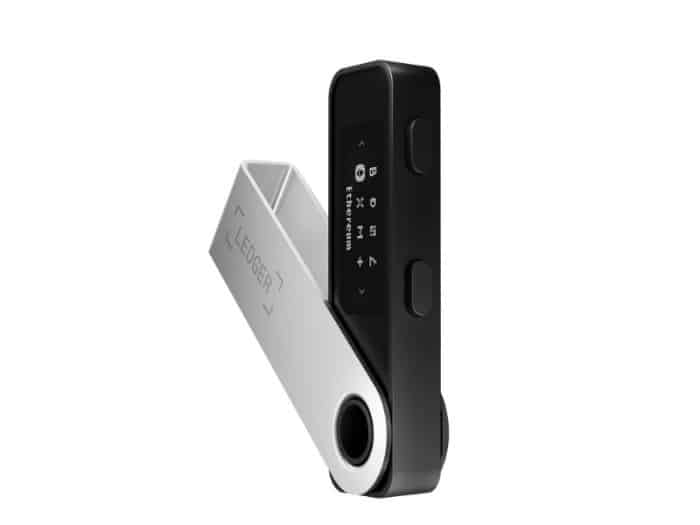 Ledger Nano S Plus
Ledger Nano S Plus is the best Hardware Wallet for 2023, offering unparalleled security and usability. The  Ledger is a name that stands synonymous with secure crypto cold wallet storage. Its Secure Element component provides an extra layer of protection, meaning your funds are safe from malicious actors.
In addition, its April 2022 upgrade to the Nano S Plus added an improved display and USB-C cable port, making it much more appealing than its predecessor. Its cold wallets also certified by ANSSI, the French cyber security agency, which gives users peace of mind that their assets are secure. With the Ledger Live app, users can monitor, buy and sell digital assets as well as lend or stake crypto with ease and convenience. Thanks to all these features, Ledger Nano S Plus is easily one of the best crypto wallets for 2023.
Read More: The Best Eco-Friendly Credit Cards for 2023
Exodus Wallet
Exodus Wallet is quickly becoming one of the most popular bitcoin and crypto wallets for 2023. It's easy-to-use interface makes navigating through different currencies and NFTs a breeze. Additionally, Exodus provides its users with an impressive selection of more than 260 crypto and NFTs, a larger number than many other hot wallets on the market. This includes established altcoins like Ether, Litecoin, XRP and Bitcoin Cash, as well as popular meme coins like Dogecoin and Shiba Inu.
Furthermore, Exodus boasts the ability to integrate with hardware wallets like Trezor for added security measures. To top it off, Exodus has been continually updating their software wallet application every two weeks to ensure high levels of performance along with a growing library of apps that provide useful features such as live charts, crypto staking and crypto deposits. This combination of accessibility, robustness and security make Exodus Wallet one of the best bitcoin and cryptocurrency wallet available in 2023.
Crypto.com Defi Wallet
The Crypto.com DeFi Wallet is one of the best bitcoin and crypto wallets for 2023 due to its user-friendly and secure interface. It offers a range of features that make it ideal for those who wish to explore decentralized finance, such as the ability to create custom smart contracts, access a wide variety of decentralized applications, and perform one-to-one crypto swaps in just a few clicks. The mobile wallet also has several built-in protocols for security, which ensure that users' assets and private keys remain safe and secure at all times.
Plus, Crypto.com's low transaction fees combined with its extensive list of supported cryptocurrencies make it an attractive option for serious bitcoin and cryptocurrency investors. With more people getting involved in bitcoin investing every day, the Crypto.com DeFi Wallet is sure to rank among the best bitcoin and crypto wallets in 2023.
Read More: The Best Eco-Friendly Debit Cards for 2023
Conclusion
Whether you are a seasoned bitcoin investor or just getting your feet wet, there is no shortage of crypto wallets to choose from in 2023. From Coinbase Wallet's user-friendly interface and wide selection of supported currencies, to Ledger Nano S Plus' secure storage system and the Crypto.com DeFi Wallet's low transaction fees, each bitcoin wallet offers something unique that makes it an attractive option for users looking to invest in bitcoin this year. With so many options available on the market today, finding the right bitcoin wallet has never been easier—no matter what type of bitcoin investment strategy you have in mind.