You never know when your car is going to have a dead battery. Whether it's from leaving the lights on overnight or just not driving it for a while, it's always good to have a jump starter on hand. That way, you can get back on the road quickly and without having to call a tow truck.
There are a lot of different jump starters on the market, but not all of them are created equal. You want to make sure that you get one that is powerful enough to start your car and that is easy to use. With so many options out there, it can be tough to know which one to choose.
That's why we've put together this list of the best portable jump starters for 2022. We've looked at a variety of factors, including power, ease of use, and price, to come up with a list of the best options on the market.
If you're looking for a portable jump starter that will get the job done right, one of these options is sure to be a good fit for you.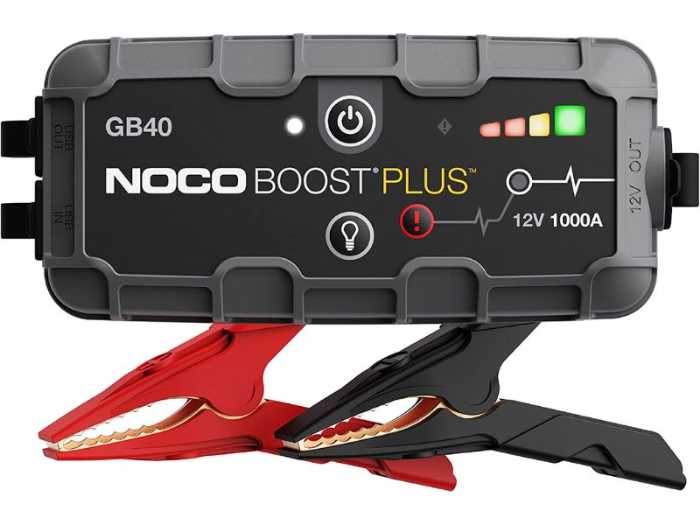 If you're looking for an ultra-portable, lightweight, and compact lithium-ion car battery jump starter pack, the GB40 from NOCO is a great option. It's safe for anyone to use, with spark-proof technology and reverse polarity protection, and can jump-start a dead battery in seconds – up to 20 times on a single charge.
Plus, it has a high-output 100-lumen LED flashlight with seven light modes – low, medium, high, flashing, strobe, and emergency SOS. And it will hold its charge for up to one year without being recharged. You can also use the internal battery charger power bank to recharge any personal mobile device, like smartphones, tablets, or other USB devices.
Read More: Best Electric Cars Of 2022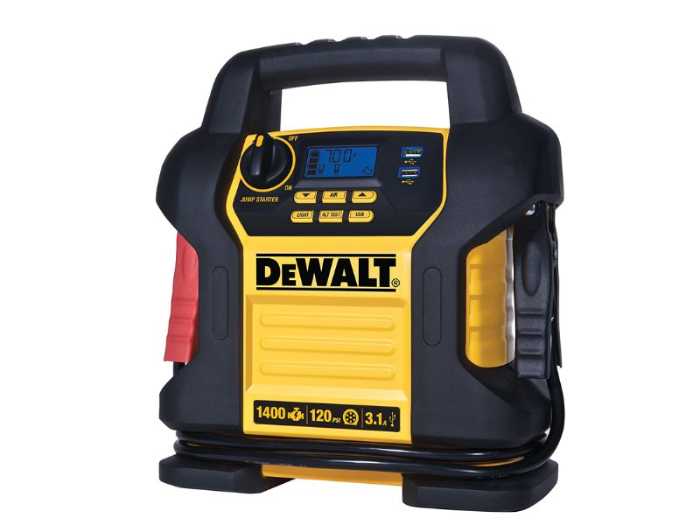 The DEWALT DXAEJ14 Digital Portable Power Station Jump Starter is a powerful and convenient tool for jump-starting your car or truck. With 1400 peak amps and 700 instant starting amps, it has enough power to get your vehicle started in a hurry. The patented Alternator Check function lets you know if your alternator is working properly. The built-in USB port provides portable power for electronic devices.
The built-in AC charging cube means you can just plug in your own extension cord (not included) to charge the power station. The dual USB charging ports allow you to charge up to 2 personal devices on the go. The compressor features a new 10-minute Auto Shut Off timer to avoid damage from heat.
When your car battery dies, you need reliable battery jump starters to get your vehicle up and running again. That's where the Schumacher DSR116 DSR ProSeries Rechargeable Pro Jump Starter comes in. This powerful jump starter features a high output AGM battery capacity for 12V systems and delivers 2250 peak amps power for jump-starting vehicles in emergencies. It also has a 2A external automatic portable car battery charger that allows the unit to recharge quickly without the worry of overcharging.
Plus, there's an audio warning that alerts you if you reverse the clamp connection. You'll also be able to charge multiple devices with the built-in USB ports and 12-volt DC power adapter. This 400W power inverter comes with 2 AC outlets. And, the digital display shows the battery level of charge and voltage, as well as indicating your vehicle's battery and alternator performance. This is the best car jump starter for a dead car battery.
This is one of the best jump starters for anyone who needs a little extra power on the go. The Clore Automotive Jump-N-Carry Portable Jump Starter is a reliable and easy-to-use device that will jump-start your car or truck in no time. With 1,700 peak amps and 425 cranking amps, this jump starter has enough power to start most vehicles.
It also features Clore Proformer Battery Technology for longer-lasting power and industrial-grade hot jaw clamps for a stronger hold. It has a lead-acid battery. Additionally, the 12-volt DC outlet can be used to power accessories. The built-in automatic charger makes it easy to keep this jump starter charged and ready to go.
Read More: The Priciest Cars From The Screens Part 1
GOOLOO has you covered with this powerful, yet compact car battery jump starter. With dual USB ports and quick charge capabilities, it'll ensure the fastest charging efficiency – 4x faster than a conventional charger. It's also backward compatible with QC 1.0 and 2.0. This is perfect for those who travel or have busy schedules. This jump starter is small and portable, making it easy to take with you on the go.
Plus, it makes a great gift for anyone who could use a little help getting their car started. With 2,000 peak amps and 19,800 mAh of power, this jump starter can get your car up and running in no time – up to 50 times! It's simple and easy to use, with safety in mind so you don't have to be a trained mechanic to use it. Plus, it works not only on cars but motorcycles and off-road vehicles as well. So whether you're stranded on the side of the road or just need a little boost to get going, GOOLOO has you covered.
Conclusion
If your car battery dies, you're going to need a reliable jump starter to get it up and running again. There are many options on the market, it can be hard to know which one is the best for you. With our list of the best jump starters for 2020, you're sure to find the perfect one for your needs. Whether you're looking for something powerful, compact, or easy-to-use, we've got you covered. So, don't be caught unprepared – get a jump starter for your car today.