On November 11th AMD announced on their new generation series of high-performance embedded processor – the AMD Ryzen Embedded V2000 series processor. The processor is based on AMD's Zen 2 cores with production of 7nm process and high-performance AMD Radeon™ graphics, which offer x2 better performance then Embedded V1000. The Embedded V2000 is designed for embedded applications such as Thin Client, MiniPC and Edge systems.
The Embedded V2000 series comes with 4 different processors that equipped with up to 8 CPU cores. Although, AMD Ryzen 5000 series processors was announced a month ago, the Embedded V2000 will be based on the old and familiar Zen 2 cores with production of 7nm process (we first encounter Zen 2 by Ryzen 3000 series processor). The V2000 series along with the Zen 2 cores will be equipped with a built in GPU cores by AMD Radeon graphics.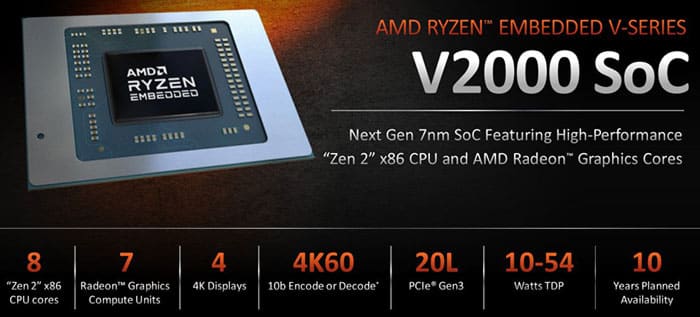 The New processors will come with production of 10-25 and 35-54 watt for different usages that they were designed for. More then that, the processors will offer up to x2 improvements per watt, 15% IPC improvements, 30% improvement performance per core and 40% graphic improvements compare to the previous generation the AMD Ryzen Embedded V1000. The Embedded V2000 will come with 20 PCIe channels and support for up to 4 monitors with 4k display resolution simultaneously with encoding and processing video with resolution of 4k 60 fps.
Now let's dive into the spec of the 4 processor of this AMD Embedded V2000 series. First of all, they all come with architecture of Zen 2 cores and production 7nm process and:
V2516:

CPU Core / Thread Count: 6/12.

CPU Based Freq / CPU Boost Freq: 2.1 GHz/ 3.95 GHz.

Radeon Graphics Compute Unit Count: 6

Graphics Freq. GHz (up to max): 1.5GHz

V2718:

CPU Core / Thread Count: 8/16.

CPU Based Freq / CPU Boost Freq: 1.7 GHz/ 4.15 GHz.

Radeon Graphics Compute Unit Count: 7

Graphics Freq. GHz (up to max): 1.6GHz

V2546:

CPU Core / Thread Count: 6/12.

CPU Based Freq / CPU Boost Freq: 3.0 GHz/ 3.95 GHz.

Radeon Graphics Compute Unit Count: 6

Graphics Freq. GHz (up to max): 1.5GHz
V2748:

CPU Core / Thread Count: 8/16

CPU Based Freq / CPU Boost Freq: 2.9 GHz/ 4.25 GHz.

Radeon Graphics Compute Unit Count: 6

Graphics Freq. GHz (up to max): 1.6GHz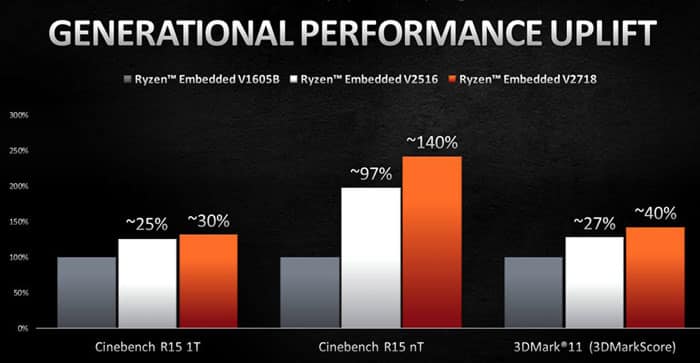 Rajneesh Gaur, corporate vice president and general manager at Embedded Business, AMD said "We continue the 10-year planned availability as with our other Ryzen Embedded processors and look forward to seeing partners and customers utilizing fast processing speeds, integrated graphics and outstanding power efficiency of the Ryzen Embedded V2000 processor for years to come."